Estate Planning in SC 2nd Edition Volume 5
Out of Stock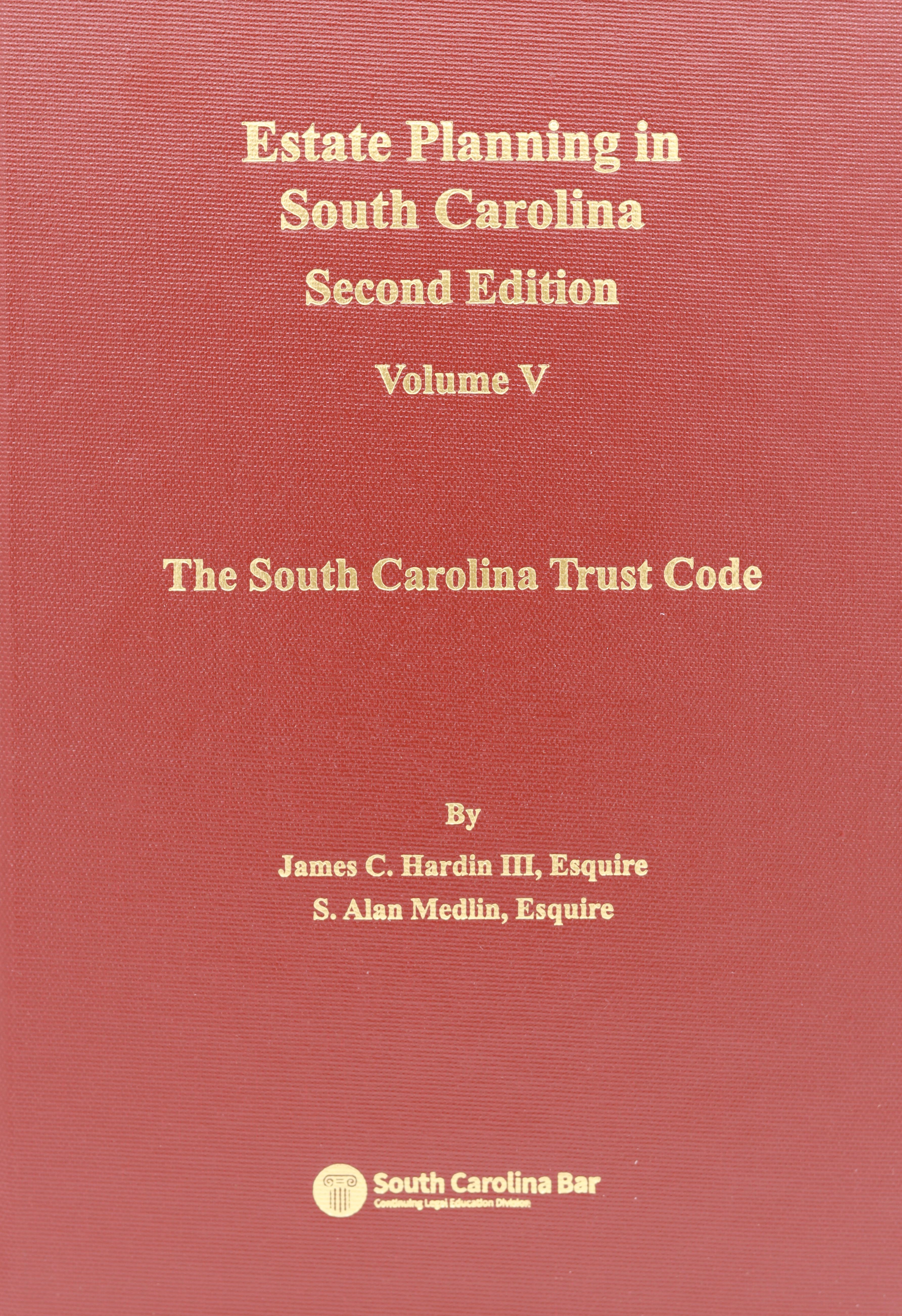 | | |
| --- | --- |
| Ratings | |
| Standard Price | $80.00 |
| Member Price | $80.00 |
| Size | |
| Color | |
| Qty | |
Product Details
Estate Planning in South Carolina, Second Edition
Volume V: The South Carolina Trust Code
James C. Hardin III and S. Alan Medlin
The South Carolina Trust Code
(SCTC) became effective January 1, 2006. It is the most significant codification of the law affecting estate planners and probate lawyers since the introduction of the South Carolina Probate Code in 1987.
The SCTC codifies or recodifies some of the existing South Carolina statutory and common law, clarifies some issues not previously dealt with legislatively or judicially in South Carolina, and changes some of the existing South Carolina law. This important and timely publication explains the SCTC in depth, discusses how it affects South Carolina Trust law, and advises practitioners about the SCTC's impact on the estate planning and probate practice.
The second edition of this book not only updates the SCTC issues discussed in the first edition, but also discusses the most significant provisions of recent substantial amendments to the SCTC.
One significant amendment affected a substantial change to existing South Carolina trust law: the statutory implementation of the unitrust provides an additional tool to a trustee wrestling with the incessant fiduciary problem of fairly and properly allocating trust receipts among trust income and principal beneficiaries. The amendments describe the methods by which a trustee can convert to a unitrust and reconvert from a unitrust.
In addition to enhancing flexibility for the allocation of trust receipts and distributions by introducing unitrust powers to South Carolina law, the amendments attempted to eliminate what was potentially a significant limitation on the receipt allocation flexibility of the power to adjust, which before the amendments probably did not take full advantage of the opportunities stemming from a liberalization of federal tax rules.
Another significant addition to a trustee's flexibility arsenal came with the adoption of statutory rules allowing a trustee exercising a power of distribution to create a second trust-a concept popularly known as decanting.
In this important publication, the authors have included an Appendix of 38 suggested forms for drafting and administering trusts under the SCTC. Some sample forms found in the book include notice; proof of delivery; summons; motion for transfer of venue/principal place of administration; trustee's notice to beneficiaries; proposal for distribution; notice of existence of trust; receipt, distribution agreement and release; draft language to settle accounts; draft language setting forth material purpose of trust; waiver of notice - decanting; and many more!
o General Provisions and Definitions
o Creation, Validity, Modification, and Termination of Trusts
o Creditors' Claims; Spendthrift and Discretionary Trusts
o Duties and Powers of Trustee
o South Carolina Uniform Prudent Investor Act; South Carolina Uniform Principal and Income Act
o Liability of Trustees and Rights of Persons Dealing with Trustee
o Miscellaneous Provisions
o Drafting and the South Carolina Trust Code
o Appendix- Suggested Forms for Drafting and Administering Trusts Under the South Carolina Trust Code
Additional Product Photos