South Carolina Administrative Practice and Procedure, Third Edition
Out of Stock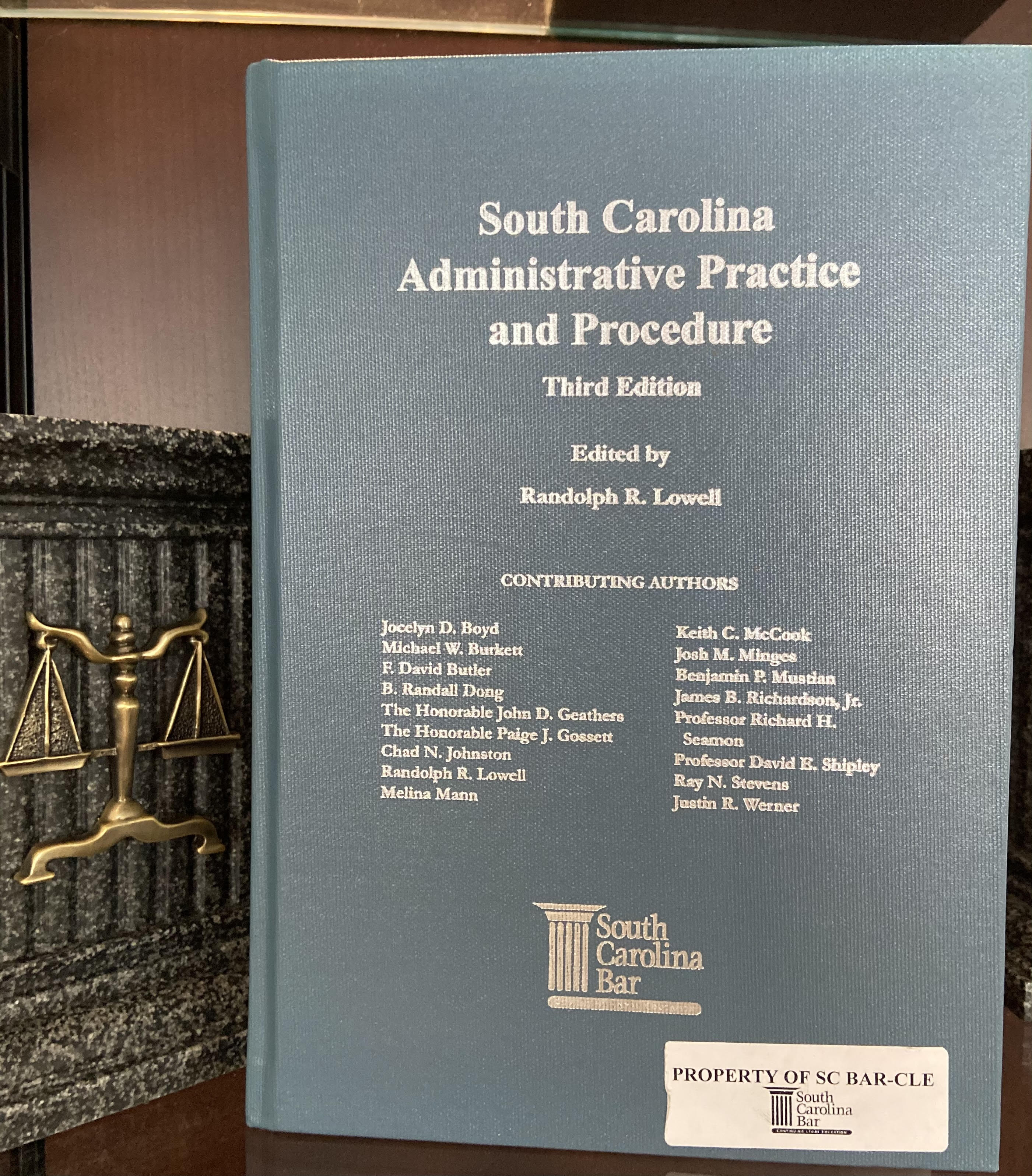 Book
| | |
| --- | --- |
| Ratings | |
| Standard Price | $100.00 |
| Member Price | $100.00 |
| Size | |
| Color | |
| Qty | |
Product Details
South Carolina Administrative Practice and Procedure, Third Edition

©2013
Edited by Randolph R. Lowell
Contributing Authors: Jocelyn D. Boyd, Michael W. Burkett, F. David Butler, B. Randall Dong, The Honorable John D. Geathers, The Honorable Paige J. Gossett, Chad N. Johnston, Randolph R. Lowell, Melina Mann, Keith C. McCook, Joseph M. Melchers, Josh M. Minges, Benjamin P. Mustian, Holly G. Pisarik, James B. Richardson, Jr., Professor Richard H. Seamon, Professor David E. Shipley, Ray N. Stevens, and Justin R. Werner

South Carolina Administrative Practice and Procedure - Table of Contents

Administrative law in South Carolina has undergone radical and pervasive changes in the last twenty years. Not only has the body of case law dramatically increased, state agency regulatory schemes have grown, due process standards have been more clearly defined, and administrative procedures have become more formal and consistent. Perhaps the most important development in state administrative practice and procedure over the past two decades has been the creation and expansion of the Administrative Law Court.
Administrative law touches practically all facets of everyday life and everyday law practice. It provides the framework by which state government administers service, policy, licensing and permitting, and taxation programs. Administrative law regulates telephone and power rates, determines taxes and rates, protects air and water from pollution, oversees and controls the availability of and access to healthcare services for many of our citizens, sets insurance rates, sanitation standards on restaurants, sets policy for and controls property use, regulates workplace safety, and performs a host of other functions that affect virtually every segment of everyday society.
With more than 600 pages, the Third Edition of this book has been totally updated and revised since publication of the Second Edition in 2008. It was written and edited by some of South Carolina's most knowledgeable and experienced administrative law practitioners, judges, and academics, and is the only book of its kind in South Carolina. Available in hard cover, this valuable and important book covers every major aspect of administrative practice and procedure in this state in a scholarly and practice way.
Summary of Contents:

- Administrative Agencies: General Concepts and Principles
- Rulemaking
- The Contested Case Before the ALC
- The Revenue Procedures Act
- SC Workers' Compensation Act; An Overview
- Professional and Occupational Licenses
- Procurement
- Department of Health and Environmental Control
- Public Service Commission of South Carolina
- Administrative Appeals at the ALC
- Judicial Review of Agency Decisions
- Government Records
- ALC Rules
Admin Practice & Procedure
Tags Health Care; Workers' Compensation Law; Administrative/Regulatory; Government
Additional Product Photos