South Carolina Corporate Practice Manual, 2nd Edition
Out of Stock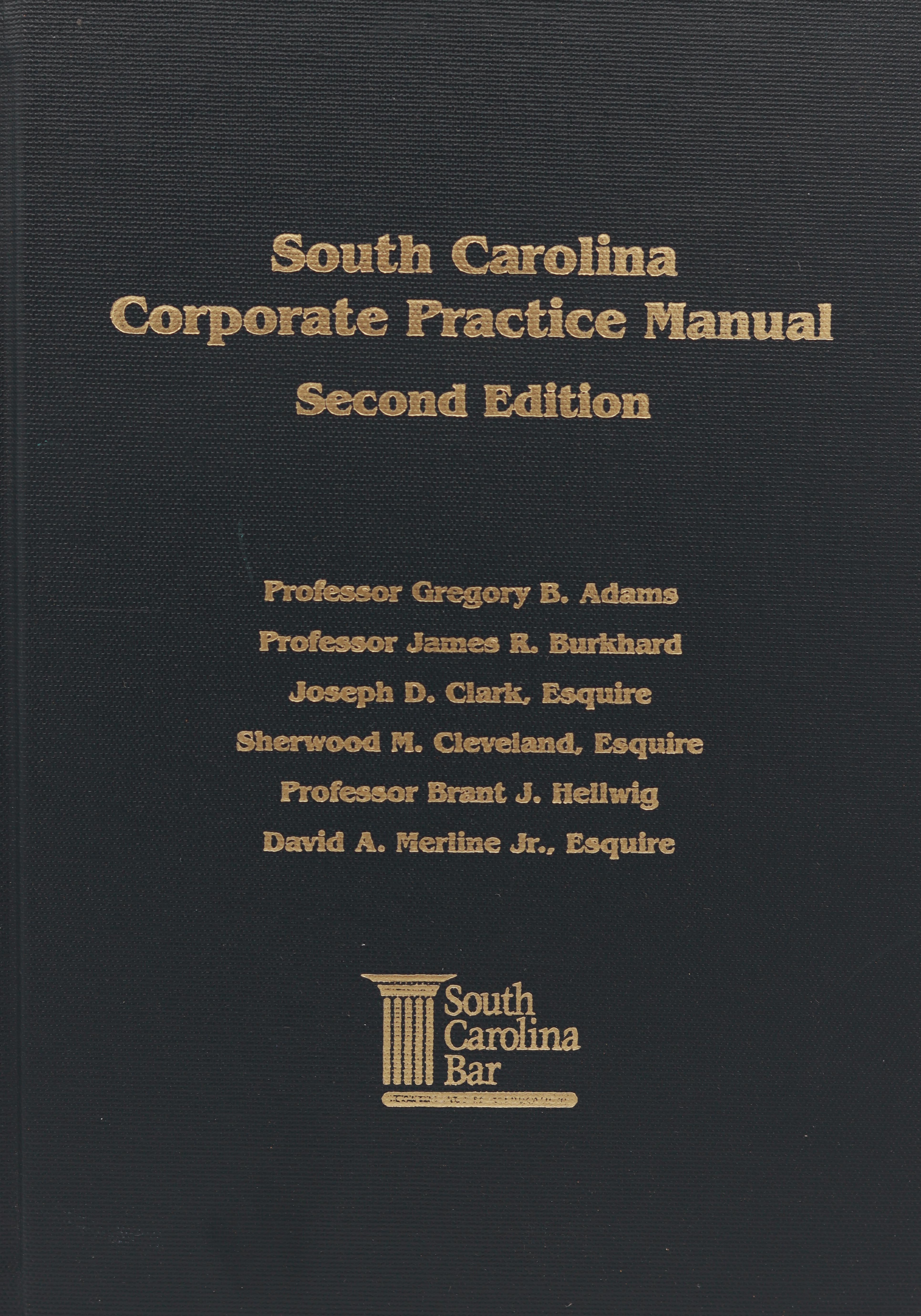 | | |
| --- | --- |
| Ratings | |
| Standard Price | $150.00 |
| Member Price | $150.00 |
| Size | |
| Color | |
| Qty | |
Product Details
The South Carolina Corporate Practice Manual, Second Edition
Professor Gregory B. Adams
Professor James R. Burkhard
Joseph D. Clark, Esquire
Sherwood M. Cleveland, Esquire
Brant J. Hellwig, Esquire
David A. Merline Jr., Esquire
The South Carolina Corporate Practice Manual, Second Edition
is a comprehensive and practical handbook designed for both the general practitioner and corporate specialist. This updated resource tracks the entire process of forming and operating most types of corporate entities.
Fully updated since the First Edition, the book includes practical instructions on advising clients about selecting the correct corporate entity, choosing and protecting the corporate name, corporate finance and control, and securities. Model articles, bylaws, resolutions, minutes, tax and other forms are included on CD.
Chapter 1 - Choice of Business Entity: Weighing the LLC Against the Alternatives
Chapter 2 - Capitalizing the Corporation, Tax Issues at Formation, and Distributing Funds from the Corporation
Chapter 3 - Control Arrangements
Chapter 4 - S Corporations
Chapter 5 - Prior to Incorporation: Issues and Liability
Chapter 6 - Corporate Name
Chapter 7 - Articles of Incorporation
Chapter 8 - Organizational Minutes
Chapter 10 - Initial and Subsequent Annual Reports
Chapter 11 - Stock Certificates and Corporate Records
Chapter 12 - Statutory Close Corporations Articles
Chapter 13 - Statutory Close Corporations Minutes
Chapter 14 - Professional Corporations Articles
Chapter 15 - Professional Corporations Organizational Minutes and Bylaws
Chapter 17 - Shareholder Meetings and Written Consents
Chapter 18 - Shareholder Powers and Rights
Chapter 20 - Corporate Officers
Chapter 21 - C Corporation Tax Fringe Benefits
Chapter 22 - Foreign Corporations
Chapter 24 - Liability of Officers, Directors, and Shareholders
Chapter 25 - Domestications and Conversions
Chapter 26 - Administrative, Tax and Regulatory Matters Affecting Incorporation of New Business
SC Corp Practice Man, 2nd Ed.
Tags Business/Corporate; Tax; Tort; Administrative/Regulatory
Additional Product Photos