The Law of Automobile Insurance in South Carolina, Seventh Edition
Out of Stock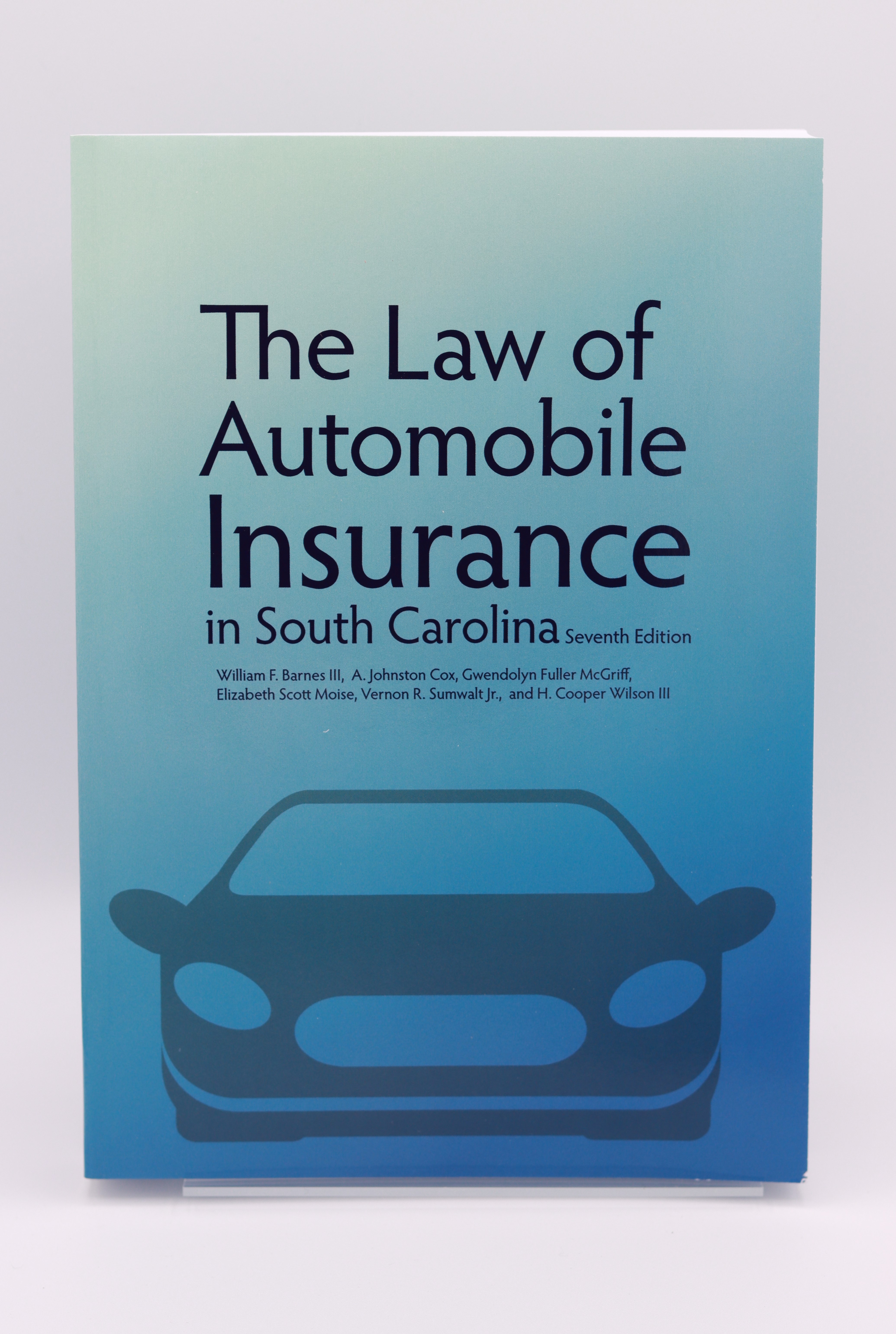 Book
| | |
| --- | --- |
| Ratings | |
| Standard Price | $95.00 |
| Member Price | $95.00 |
| Size | |
| Color | |
| Qty | |
Product Details
The Law of Automobile Insurance in South Carolina, Seventh Edition
William F. Barnes III, A. Johnston Cox, Gwendolyn Fuller McGriff, Elizabeth Scott Moise,
Vernon R. Sumwalt, Jr, H. Cooper Wilson III
Completely updated and revised since the Sixth Edition, this book is the standard reference
on all matters related to automobile insurance in South Carolina. This book not only compiles
and analyzes all case law changes, but it also includes a statutory liens chapter and coverage
of South Carolina's auto insurance statutory scheme. Balanced and comprehensive,
The Law
of Automobile Insurance in South Carolina, Seventh Edition
, is the product of a unique
collaboration of plaintiffs' and defense attorneys, as well as a government regulator.
At no additional cost each book purchase comes with 42 valuable sample forms on CD. This will
save you time and allow you to get more out of your practice.
Chapter 1: Regulation of the Automobile Insurance Business
Automobile Insurance Regulation in South Carolina
South Carolina Financial Responsibility Requirements
Chapter 2: Liability Insurance
Persons Defined as Insureds
Ownership, Maintenance or Use Requirement
Chapter 3: Uninsured Motorist Coverage
Background of the Uninsured Motorist Act
Persons Covered by Uninsured Motorist Coverage
Definition of an "Uninsured Motor Vehicle"
Coverage for Hit-and-Run Accidents
Regulation of Multiple Coverages
Chapter 4: Underinsured Motorist Coverage
Underinsured Motorist Coverage
Method of Offering Coverage
Amount of Coverage Which Must Be Offered
Who Must Be Offered Coverage: State Government
Loss of Consortium Claims
Exclusions and Regulation of Multiple Coverages
Subrogation and Assignment
Chapter 5: Personal Injury Protection Coverage
Chapter 6: Physical and Property Damage Coverages
Third-Party Liability Property Damage Coverage
Uninsured Motorist Property Damage Coverage
First Party Physical Damage Coverages
Availability of Physical Damage Coverage
Insurer's Limit of Liability and Measure of Damages
Chapter 7: Bad Faith and Criminal Penalties
Criminal Penalties for Insurance Fraud
Declaratory Judgment Actions
Service of Process on Insurance Companies
Collecting Judgments Against Insurers
Chapter 10: Statutory Liens
Ethical Ramifications of Statutory Liens
Exhibit I: Emergency Regulation 69-77
Affidavit of Non-Military Service
Affidavit of Service by Mail
Affidavit Seeking Order to Allow Service by Publication
Complaint - Bad Faith First Party Benefits
Complaint - Bad Faith Refusal To Pay Claim
Complaint- Bad Faith -
Tyger River
Complaint- Failure to offer UIM
Complaint- Magistrate's Court
Complaint - Wreck Case - Negligence
Complaint - Wreck Case - Family Purpose Doctrine
Covenant Not to Execute (#1)
Covenant Not to Execute (#2)
Instructions for Magistrate's Court
Motion for Default Hearing Requested
Motion for Default Liquidated Sum
Order Allowing Service by Publication
Order of Default/Damages Hearing
Personal Injury Intake Sheet
Petition in Supplementary Proceedings
Plaintiff's First Request for Production (RFP) - Bad Faith (#1)
Plaintiff's First Request for Production (RFP) - Bad Faith (#2)
Plaintiff's First Request for Production (RFP) - Failure to offer UIM
Plaintiff's First Set of Interrogatories
Rule to Show Cause/Order of Reference (post-judgment)
Subpoena for Deposition - Federal Court
Subpoena for Production - Federal Court
Subpoena for Trial - Federal Court
Summons for Magistrate's Court
Auto Insurance in SC
Additional Product Photos