A Practical Guide to Elder and Special Needs Law in South Carolina, Second Edition
Out of Stock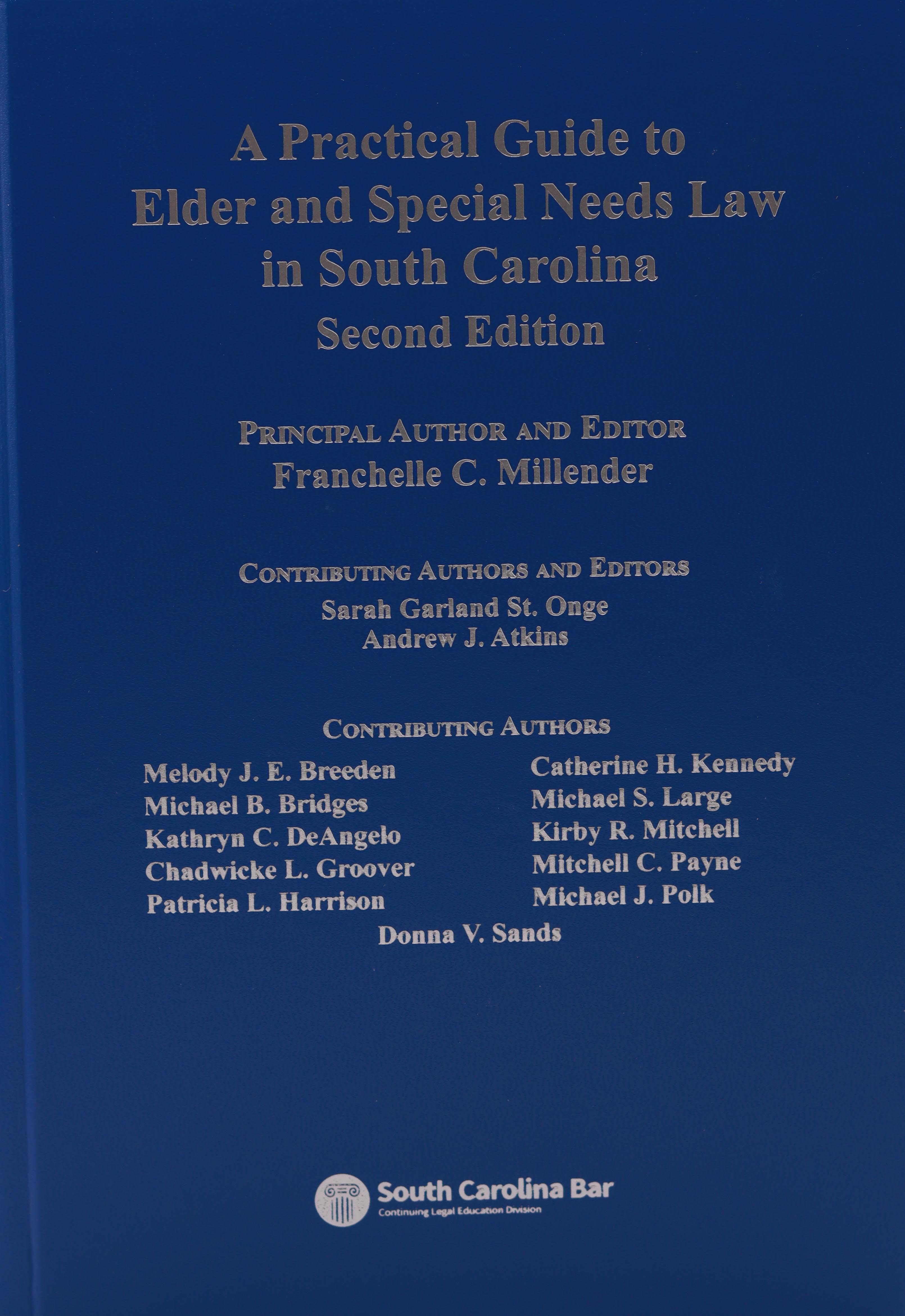 Book
| | |
| --- | --- |
| Ratings | |
| Standard Price | $225.00 |
| Member Price | $225.00 |
| Size | |
| Color | |
| Qty | |
Product Details
A Practical Guide to Elder and Special Needs Law in South Carolina - Table of Contents

A Practical Guide to Elder and Special Needs Law in South Carolina, Second Edition
© 2021
Principal Author and Editor: Franchelle C. Millender
Contributing Authors and Editors: Sarah Garland St. Onge and Andrew J. Atkins
Contributing Authors: Melody J. E. Breeden, Michael B. Bridges, Kathryn C. DeAngelo, Chadwicke L. Groover, Patricia L. Harrison, Catherine H. Kennedy, Michael S. Large, Kirby R. Mitchell, Mitchell C. Payne, Michael J. Polk, and Donna V. Sands
Do you have clients who are elderly or disabled and need assistance in providing for long term care?
Do you have clients who have questions about Social Security, Medicare, Supplemental Security Income, Medicaid, Veterans benefits?
Do any of your clients need direction in choosing a long-term care facility for a family member?
Do you need easy access to the latest information about wills, trusts, powers of attorney or the estate planning process?
Are you aware of the tax consequences of an action as simple as a deed from parent to child?
Issues relating to aging and disability touch everyone. As an attorney, you will be asked questions about the many decisions that must be made to provide needed care. And with more than 970 pages, 26 chapters, 10 exhibits and a stand-alone forms book with 22 sample forms, this is the book you must have to help your clients get the answers they need.
It took this distinguished panel of elder law practitioners, along with probate and estate planning practitioners, more than two years to reorganize, plan and write this Second Edition, And what they've produced is a guide for every attorney who advises older clients, disabled clients, and families of those who are elderly or have special needs. It is a comprehensive, practical resource that answers not only issues of substantive law, but also helps the attorney work through the many ethical issues inherent in the practice of elder and special needs law.
A sampling of issues addressed in the Second Edition include: planning for incapacity, disability and death; the ABLE Act; available government benefits (Social Security, SSI, Medicare, Medicaid, Veterans benefits); delivery of care; funding the cost of long-term care; tax aspects as they relate to planning for long term care and disability; accessing Medicaid for long term care; abuse, neglect and exploitation; and brand new material on surrogate and supported decision making. Additionally the sample forms in this book are outstanding. These include: a sample legal representation agreement, health care power of attorney, psychiatric advance directive, sample language for gifting authority in a durable power of attorney, supplemental trusts, a several versions of sample Wills, plus many more!
A downloadable copy of both the text and the forms will come with the purchase of your hard copy.
Tags Elder; Estate Planning/Administration; Health Care; Social Security; Tax; Government; Probate
Additional Product Photos