The Lost Art: An Advocate's Guide to Effective Opening Statements and Closing Arguments, 4th Edition
Out of Stock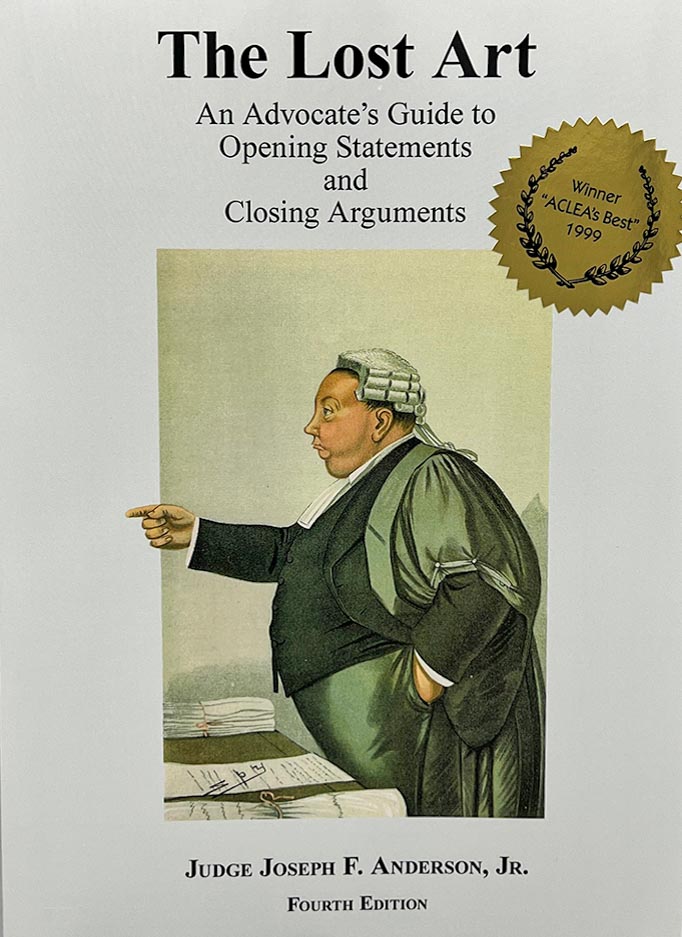 Book
| | |
| --- | --- |
| Ratings | |
| Standard Price | $75.00 |
| Member Price | $75.00 |
| Size | |
| Color | |
| Qty | |
Product Details
©2015
The Lost Art: An Advocate's Guide to Opening Statements and Closing Arguments Revised and Expanded Fourth Edition
The Honorable Joseph F. Anderson, Jr
One of our best-selling publications just got better! The first edition of United States District Judge Joseph F. Anderson's book, The Lost Art: An Advocate's Guide to Effective Closing Argument, won the National Association for Continuing Legal Education's "Best Publication Award" for 1999. In the Revised Fourth Edition, Judge Anderson has expanded the subject matter of the book to now include opening statements as well as closing arguments.
The new text follows the format of the first three editions. Drawing upon his 28 years as a trial judge, Judge Anderson first offers practical tips on composing and delivering an effective opening statement or closing argument. He then takes the reader through the law pertaining to these two important components of a common-law trial. Finally, he includes an anthology of more than 400 opening statements and closing argument segments that he has collected during his time on the bench.
Unlike many compilations of attorney presentations, this volume represents only the most usable passages of each. While the collection includes excerpts of historically significant cases, from John Quincy Adams, defense of the British Soldiers for their actions in the Boston Massacre to the trial involving the Oklahoma City bombing, the book's focus is on frequently recurring issues. It draws, therefore, primarily from typical cases that were argued uncommonly well. These courtroom classics, along with the compendium of quotations in the final chapter, can form the nucleus of an effective opening statement or summation, allowing the busy litigator to draw on the talents of many fine lawyers in a matter of minutes. Any lawyer who has ever composed a closing argument will find Judge Anderson's book to be a treasure trove of pithy, eloquent, and memorable opening statements and summations that can serve as building blocks for a compelling jury presentation.
South Carolina Supreme Court Chief Justice Jean H. Toal, who wrote the foreword, describes Judge Anderson's book as "an eminently practical book . . . that will be a jewel of an addition to the library of any trial advocate."
Summary of Contents
Part I: Opening Statements
Part II: Closing Arguments
Part III: The Law of Summation
Part IV: Resources for Summation
The Lost Art
Additional Product Photos