South Carolina Family Lawyer's Toolkit, Third Edition
Out of Stock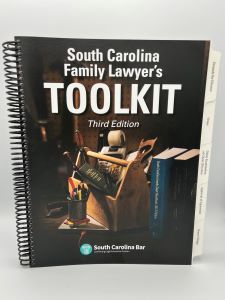 Book
| | |
| --- | --- |
| Ratings | |
| Standard Price | $100.00 |
| Member Price | $100.00 |
| Size | |
| Color | |
| Qty | |
Product Details
Melissa F. Brown, Melissa M. Frazier, Martha L. Hamel, C. Vance Stricklin, Jr.
With contributions from the 2015-2016 South Carolina Bar Family Law Section Council:
Ruth L. Cate, David P. Geis, Ernest J. Jarrett, Ryan A. McLeod, Kirby R. Mitchell, Chris B. Paton, Ashlin B. Potterfield, Gary H. Smith, J. Benjamin Stevens and the Honorable Katherine H. Tiffany
TheSouth Carolina Family Lawyer's Toolkit, Third Edition
, is just what its name implies: a practical handbook designed by and for the busy practitioner containing quick references on the most important issues in a family law practice and trial. The Toolkit is a must-have handbook that addresses both procedural and substantive issues and is recommended by family law attorneys and the family court bench.
Fully updated and expanded since the Second Edition in 2010, the Toolkit contains new and improved questions/scripts for divorce, name change, equitable division, adoptions, custody cases, expert witnesses and more. It also provides relevant objections, evidentiary foundations, and includes a new electronic evidence section. The Toolkit also provides newly created UCCJEA and UIFSA jurisdictional flow charts for the practicing attorney.
As an added bonus, a CD is included, allowing you to print just the pages you need for your next court hearing.
Summary of Contents:
Direct Examination of Client (Divorce)
UIFSA Jurisdictional Flow Chart
Alimony (including chart of Alimony cases)
Business Records Predicate
Direct/Cross Business Valuation Expert
Direct/Cross - Fact Witness
Direct/Cross of Psychological and Custody Evaluator
UCCJEA Jurisdiction Flow Charts
Step-Parent/Relative Adoption
Applicable Rules of Procedure
Family Law Toolkit
Additional Product Photos