SC Damages, Second Edition with 2017 Supplement
Out of Stock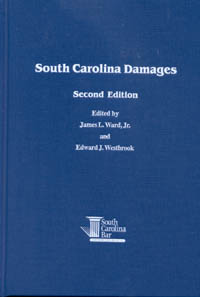 Book
| | |
| --- | --- |
| Ratings | |
| Standard Price | $175.00 |
| Member Price | $175.00 |
| Size | |
| Color | |
| Qty | |
Product Details
©2009 and © 2017

Edited by James L. Ward Jr., Esquire and Edward J. Westbrook, Esquire

With over 740 pages of text,
South Carolina Damages, Second Edition
is the only book of its kind in South Carolina and is co-authored by more than sixty of South Carolina's most outstanding judges, attorneys, and law professors, including former Chief Justice Jean Hoefer Toal, Judge Karen L. Henderson, Judge G. Ross Anderson Jr., Judge P. Michael Duffy, Justice Kaye G. Hearn, practicing attorneys Wallace Lightsey, Allen Gibson, John E. Parker, Fayrell Furr, Richard Rosen, professors John P. Freeman, Ralph McCullough, and Randy Bridwell, and many more of South Carolina's finest legal minds.

Fully updated since publication of the first edition in 2004 and written with the practicing attorney in mind, this cutting-edge book will provide practical and scholarly insights and coverage of virtually every important aspect of damages law in South Carolina. Covering not only the theory and policy behind damages law, the book also includes comprehensive discussion and analysis of compensatory damages in personal injury and property torts, contract damages, and punitive damages, but also more than thirty individual chapters on everything from damages in anti-trust and automobile wreck cases to wrongful death and wrongful discharge and virtually everything in between! Truly, this is a book that every South Carolina attorney, whether plaintiff or defense, should have on his or her shelf.
Included with your purchase of
South Carolina Damages, Second Edition
is the 2017 Supplement. The 2017 Supplement includes significant cases decided after 2009, the date the main volume was completed and December 2016, the research deadline for the Supplement. The 2017 Supplement includes updates to all chapters except Chapters 30 and 39 and includes complete rewrites of Chapters 6, 10, 21, and 32. It follows the format of the main volume with cases and materials citing the chapter and page of the original volume so that all materials are placed in the context of the discussion in the original volume.
Part I: Damages in General
Part II: Compensatory Damages
South Carolina Modified Comparative Negligence
Personal Injury Damages
Tort Damages Involving Property
Contract Damages
Part III: Punitive Damages
Part IV: Miscellaneous Damages Topics
Set-off of Settlement Against Verdict in Wrongful Death and Survival Actions
Prejudgment and Post-judgment Interest
Collateral Source Rule
The Taxation of Settlements & Judgments
Limitations on Damages Against the State of South Carolina and Charitable Organizations
Part V: Permissible Arguments on Damages in Closing Arguments
Part VI: Damages for Specific Causes of Action
Admiralty
Anti-Trust Damages Under South Carolina Anti-Trust Statute
Auto Accidents
Civil Conspiracy
Civil Rights
Class Actions
Construction Contracts
Defamation and Invasion of Privacy
Dram Shop Liability
Fraud and Misrepresentation
Insurance Bad Faith
Insurance Stacking
Intentional Infliction of Emotional Distress
Interference with Contractual and Business Relations
Land Sales Contracts
Legal Malpractice
Marital and Relational Torts
Medical Malpractice
Premises Liability
Qui Tam Damages
Sale of Goods/Uniform Commercial Code
Securities Law
Service Contracts
South Carolina Tort Claims Act
South Carolina Unfair Trade Practices Act
Damages in Title VII Cases
Workers' Compensation
Wrongful Death & Survival Actions
Wrongful Discharge & Employment Contracts
SC Damages
Tags Consumer; Business/Corporate; Construction; Employment/Labor; Insurance; Residential Real Estate; Tax; Tort; Workers' Compensation Law; Commercial Real Estate; Litigation/Trial Practice; Banking; Constitutional/US Supreme Court ; Ethics/Professional Responsibility; Government
Additional Product Photos