Labor & Employment Law for South Carolina Lawyers, Fifth Edition - Volume I and II
Out of Stock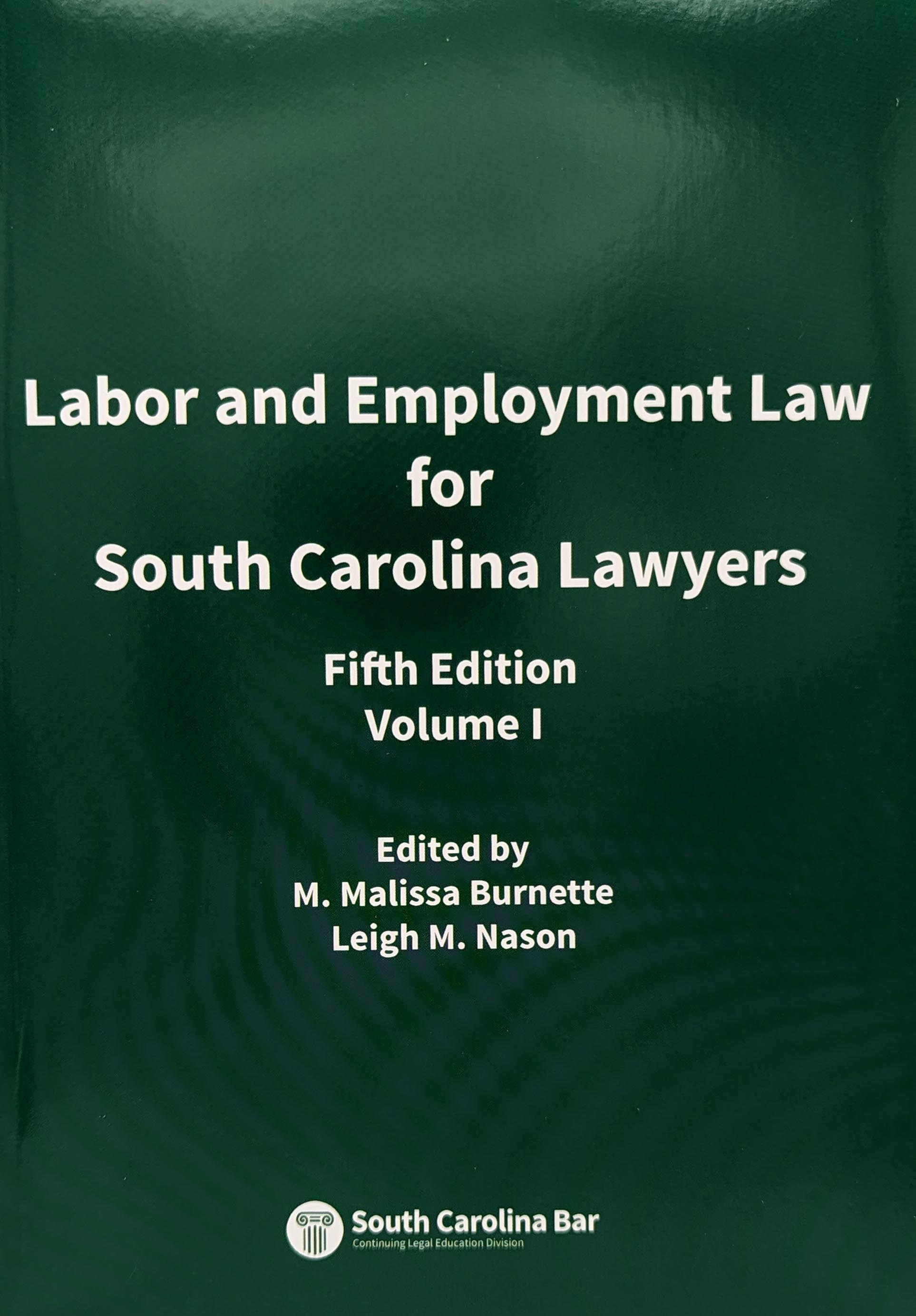 Book
| | |
| --- | --- |
| Ratings | |
| Standard Price | $195.00 |
| Member Price | $195.00 |
| Size | |
| Color | |
| Qty | |
Product Details
Edited by: M. Malissa Burnette and Leigh M. Nason

This comprehensive guide for South Carolina lawyers covers every major aspect of both federal and South Carolina labor and employment law. Our distinguished editors and more than 45 contributing authors-many of whom are certified specialists in labor and employment law- have teamed up to produce a Fifth Edition of this truly balanced and unique treatise covering this pervasive and complex area of law. Federal and state statutes, regulations, common law and administrative procedures are discussed in a thorough and organized fashion with emphasis on providing practical, understandable answers to the most common questions that arise in most employment cases. New for the Fifth Edition is a chapter on Workers' Compensation and a glossary of acronyms frequently used in employment and labor law practice. Because of the vast amount of information covered this edition consists of two volumes. Your purchase will include both volumes.
Each book purchase also comes with the complete text of both volumes on a flash drive. The PDF documents on the flash drive contain a "key word" search tool, making it easy to quickly find what practitioners need.
This treatise will be valuable for practitioners seeking a ready reference for employment law questions that arise with their own employees or their clients, whether in private practice or the public sector.
South Carolina Labor and Employment Law
Covenants Not to Compete and Other Restrictive Covenants
Employee Reputation, Privacy and Dignity
Unemployment Law and Procedure
Federal and State Laws Relating to Pay and Benefits
Wage Payment Act and Related Laws
Employee Retirement and Income Security Act
Federal Labor and Employment Laws
Family and Medical Leave Act
Foreign National in the Workforce
Labor-Management Relations
Affirmative Action Obligations of Federal Government Contractors
Occupational Safety and Health
Uniformed Servicemembers' Rights and Benefits
Worker Adjustment and Retraining Notification Act
Federal Anti-Discrimination Laws
Age Discrimination in Employment Act
Americans with Disabilities Act
Whistleblower Protection and Litigation Under the Sarbanes-Oxley Act
Title VII of the Civil Rights Act
Special Issues of Public Employees
Constitutional Rights of Public Employees
Alternative Dispute Resolution
Alternative Dispute Resolutions
Statutes of Limitations in Employment Cases
SC Labor & Emp., 3rd Ed.
Tags Employment/Labor; Workers' Compensation Law; Administrative/Regulatory
Additional Product Photos