Handling Traffic Cases In South Carolina, 6th Edition
Out of Stock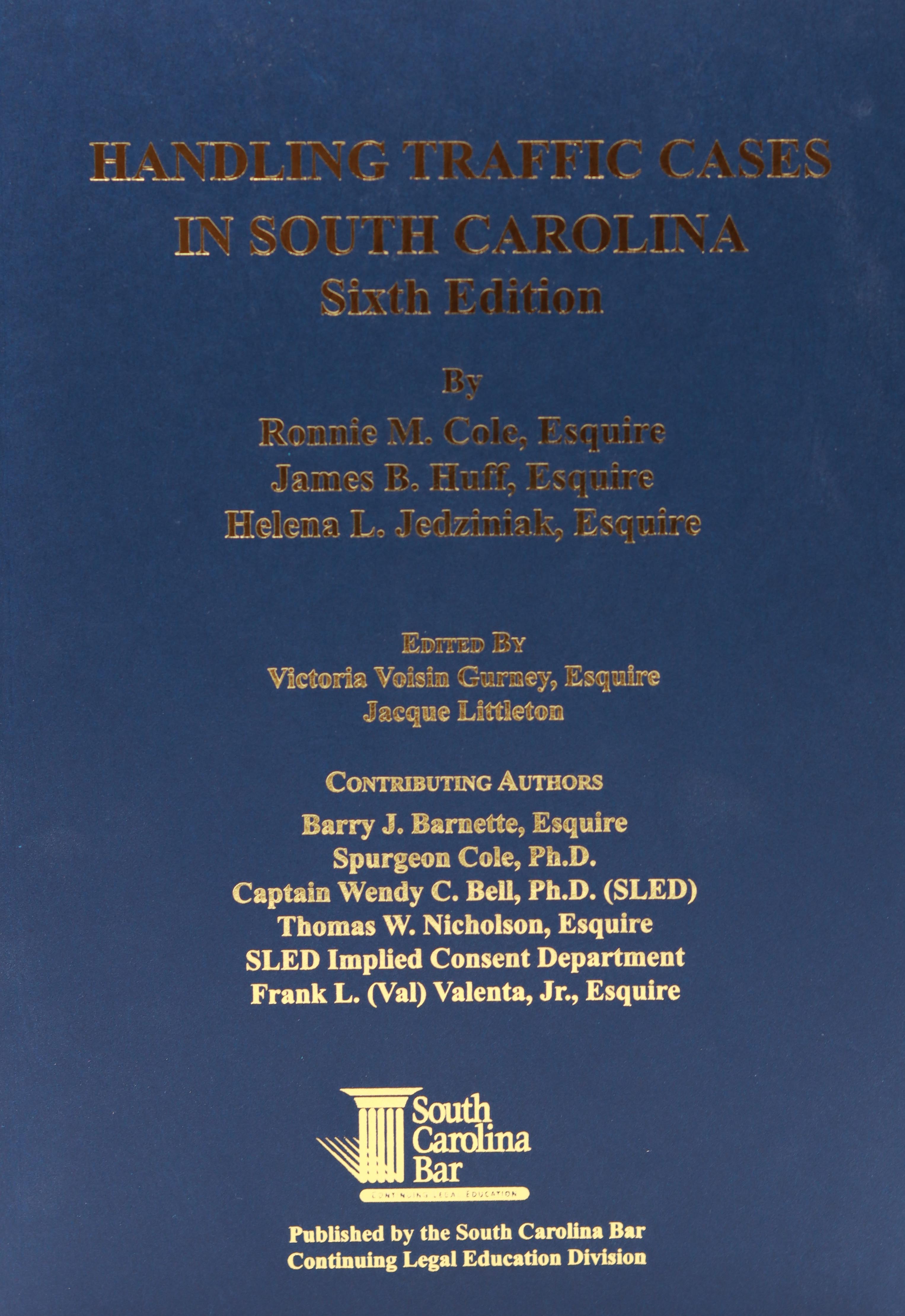 Book
| | |
| --- | --- |
| Ratings | |
| Standard Price | $150.00 |
| Member Price | $150.00 |
| Size | |
| Color | |
| Qty | |
Product Details
Handling Traffic Cases in South Carolina, Sixth Edition
Helena L. Jedziniak, Esquire
Edited By: Victoria Voisin Gurney, Esquire and Jacque Littleton
Contributing Authors: Barry J. Barnette, Esquire; Spurgeon Cole, Ph.D; Captain Wendy C. Bell, Ph.D. (SLED); Thomas W. Nicholson, Esquire; SLED Implied Consent Department; Frank L. Val Valenta, Jr., Esquire
With more than 920 pages and 43 chapters,
Handling Traffic Cases in South Carolina, Sixth Edition
, is a comprehensive resource that has been fully updated and revised since publication of the Fifth Edition in 2012. For the Sixth Edition the authors have included a new chapter on The Ignition Interlock Device Program. Other highlights include: ethical considerations in handling traffic cases; DUI and general traffic voir dire; elements and penalties for driving under the influence, driving with an unlawful alcohol concentration, driving under suspension, felony DUI, failure to stop for a blue light, and flying and boating under the influence; DUI case law; prosecution checklist for DUI cases; presenting the defendant's case; field sobriety tests; administrative problems in the DUI case; inclusion of South Carolina DUI/DUAC penalty chart; the DMV matrix for driver's license suspensions and much much more! Also included in this important book is a wealth of practical information and advice including sample pleadings, direct and cross-examination questions, jury charges, as well as SLED forms and policies, case and statutory analysis, and statutory changes. The entire text of the book along with the Table of Cases will be included on an accompanying CD.
This book is South Carolina's most complete reference for issues that can arise in the prosecution and defense of traffic-related cases in Magistrate's or General Sessions Court.
Chapter 1: Ethical Considerations in Handling Traffic Cases
Chapter 2: The Judge
Chapter 3: Discovery
Chapter 4: South Carolina Rules of Criminal Procedure
Chapter 5: Selected South Carolina Rules of Evidence
Chapter 6: Should the Case Go to Trial?
Chapter 7: DUI and General Traffic
Voir Dire

Chapter 8: Jury Charges
Chapter 9: Driving Under the Influence (Elements of the Crime and Penalties)
Chapter 10: Driving with an Unlawful Alcohol Concentration
Chapter 11: DUI Case Law
Chapter 12: Driving Under Suspension
Chapter 13: Failure to Stop for Blue Light
Chapter 14: Probable Cause
Chapter 15: Roadblocks/License Checkpoints
Chapter 16: Enhancement and Collateral Attack
Chapter 17: Independent and Adequate State Grounds Doctrine
Chapter 18: Prosecution Checklist for DUI Cases
Chapter 19: The Arresting Officer
Chapter 20: The Defendant's Case - DUI
Chapter 21: Defense Witnesses
Chapter 22: Flying and Boating Under the Influence
Chapter 23: Scientific Aspects of Infrared Breath Testing
Chapter 24: DataMaster
Chapter 25: Underage (21) License Suspensions
Chapter 26: Toxicology of Alcohol
Chapter 27: Blood Tests (Legal Ethanol Determination in Body Fluids)
Chapter 28: Drug Testing in Urine
Chapter 29: Administrative Problems in the DUI Case
Chapter 30: Interstate License Problems
Chapter 31: South Carolina Traffic Offenses and Other Statutory Violations Which May Result in Suspension or Revocation of Driving Privileges
Chapter 32: Handling Habitual Offender Cases and Ending Permanent Revocations
Chapter 33: Insurance Problems
Chapter 34: Video Recording, Section 56-5-2953
Chapter 35: Field Sobriety Tests
Chapter 36: Confiscation and Forfeiture of Vehicles
Chapter 37: Felony DUI
Chapter 38: Involuntary Manslaughter and Reckless Homicide
Chapter 39: Accident Reconstruction
Chapter 40: Expungement of Driving Under the Influence Records
Chapter 41: Radar Defense
Chapter 42: DRE Course
Chapter 43: The Ignition Interlock Device Program

Appendix A:
Motion for Speedy Trial
Motion to Elect
Motion to Quash
Motion to Produce Exculpatory Evidence
Motion to Stipulate Jurisdiction
Motion for Change of Venue
Motion to Suppress or Redact Video Tape
Motion to Produce

Appendix B:
Jury Trial Requested
Preliminary Hearing Requested
Supersedeas

Appendix C:
Suggested Reading Material and Internet Sites
Handling Traffic Cases
Additional Product Photos