Health Care Fraud & Collateral Consequences, Second Edition
Out of Stock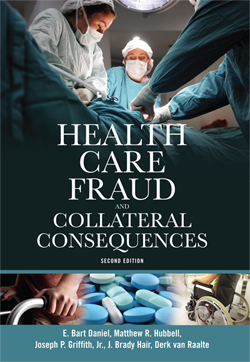 | | |
| --- | --- |
| Ratings | |
| Standard Price | $65.00 |
| Member Price | $65.00 |
| Size | |
| Color | |
| Qty | |
Product Details
©2010

E. Bart Daniel, Matthew R. Hubbell, Joseph P. Griffith Jr., J. Brady Hair and Derk van Raalte

Recently, health care emerged as a contentious hot button issue culminating in the passage of the Patient Protection and Affordable Care Act (PPACA) of 2009. PPACA is built upon the foundation of HIPAA. HIPAA forever transformed the enforcement landscape. In addition to creating a specific health care fraud offense, it funded new prosecutor, auditor and agent positions to ferret out and prosecute health care offenders. U.S. Attorneys' offices formed teams of experienced prosecutors and agents trained in health care fraud. These experienced teams began initiating parallel proceedings. It became the norm for defendants to be prosecuted on criminal charges, sued on the civil claims and later excluded from participating in government funded health care programs. In addition, sealed whistleblower lawsuits have become a cottage industry for many in the plaintiffs' bar.

On the strength of a proven track record of collecting billions, Congress has provided more aggressive enforcement tools and increased funding for the HHS and the DOJ under the PPACA. The Act provides increased funding for prosecutor and investigator positions, creates powerful new investigative tools, lowers the bar for prosecutors and whistleblower plaintiffs, establishes new criminal offenses and increases the punishment for health care offenses. The Act also expands what many refer to as the private bounty hunter audit.

This publication discusses these new weapons of civil and criminal enforcement. It addresses multi-agency investigations, prosecutions and the often-devastating collateral consequences. It is designed to serve as a ready reference for private practitioners and health care providers who deal with the enforcement aspects of health care. Whether it is the big business of the large-scale provider such as a hospital or hospice or the day to-day operations of a small town pharmacy or medical practice, the submission of bills for payment to the Medicare/Medicaid Program or to insurance carriers has become a minefield for the unwary. Health care counsel must become familiar with civil and criminal enforcement and recognize the early warning signs of an investigation and the action that should be taken.
Summary of Contents

I.
Introduction
II.
Types of Health Care Fraud
III.
Investigative Agencies and Their Roles
IV.
How an Investigation Begins
V. Federal Enforcement
VI. State Enforcement: Health Care Fraud Prosecutions in the State Arena
VII. Defending Health Care Cases
VIII. Federal Sentencing Guidelines
IX. Collateral Consequences & Proceedings
X. Internet Sources
XI. Scorecard of Acronyms
Health Care Fraud & Collateral
Additional Product Photos