SC Children's Law Resource Manual
Out of Stock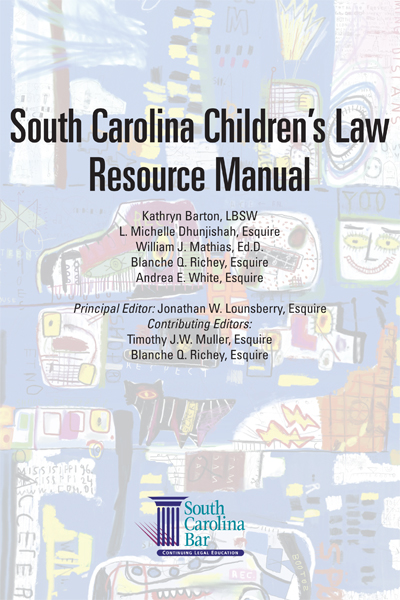 | | |
| --- | --- |
| Ratings | |
| Standard Price | $55.00 |
| Member Price | $55.00 |
| Size | |
| Color | |
| Qty | |
Product Details
Kathryn Barton, LBSW
L. Michelle Dhunjishah, Esquire
William J. Mathias, Ed.D.
Blanche Q. Richey, Esquire
Andrea E. White, Esquire
Principal Editor: Jonathan W. Lounsberry, Esquire
Contributing Editors: Timothy J.W. Muller, Esquire and Blanche Q. Richey, Esquire
This publication was developed by a dedicated group of authors and editors with one goal in mind – to provide a helpful, go-to resource for the adults charged with protecting South Carolina's vulnerable children so that they can advocate more efficiently and effectively for the children involved in the system. This user-friendly manual includes an overview of the history of juvenile justice; an organized, step-by-step explanation of the juvenile justice system and the various court hearings involved; a look at the impact juvenile justice can have on the educational system; a detailed description of the statewide Juvenile Arbitration Program; and an overview of the foster care system authored by the Foster Care Review Board's Director and General Counsel. Also included is a conversion table (Title 63 to 20), a table of authorities, and an index.
Chapter Two: Juvenile Justice System
The expungement statute was amended
effective June 2015. The update statute, S.C. Code Ann. Section 63-19-2050, reads as follows:
EXPUNGEMENT OF A CHILD'S RECORD
A person who has been taken into custody for, charged with, or adjudicated delinquent for having committed a status offense or a nonviolent crime may petition the court for an order expunging all official records relating to (1) being taken into custody; (2) the charges filed against the person; (3) the adjudication; and (4) the disposition. A person who has a prior adjudication for an offense that would carry a maximum term of imprisonment of five years or more if committed by an adult may not petition the court. The court will only grant the expungement order if it finds the person is at least 17, has successfully completed any dispositional sentence imposed, has not been subsequently adjudicated for or convicted of any criminal offense, and does not have any pending criminal charges. If the person was found not guilty in a family court adjudicatory hearing, the court shall grant the expungement order regardless of the person's age and the person must not be charged a fee for the expungement.
See
S.C. Code Ann. § 63-19-2050.
Summary of Contents
- An Overview of the History of Juvenile Justice in the United States
- Juvenile Justice System
- The Impact on the Educational System
- Alternative to Juvenile Court: Juvenile Arbitration Programs
- Foster Care
- Conversion Table (Title 63 to 20)
Juvenile Law Manual
Additional Product Photos