Service of Process in South Carolina, 5th Edition
Out of Stock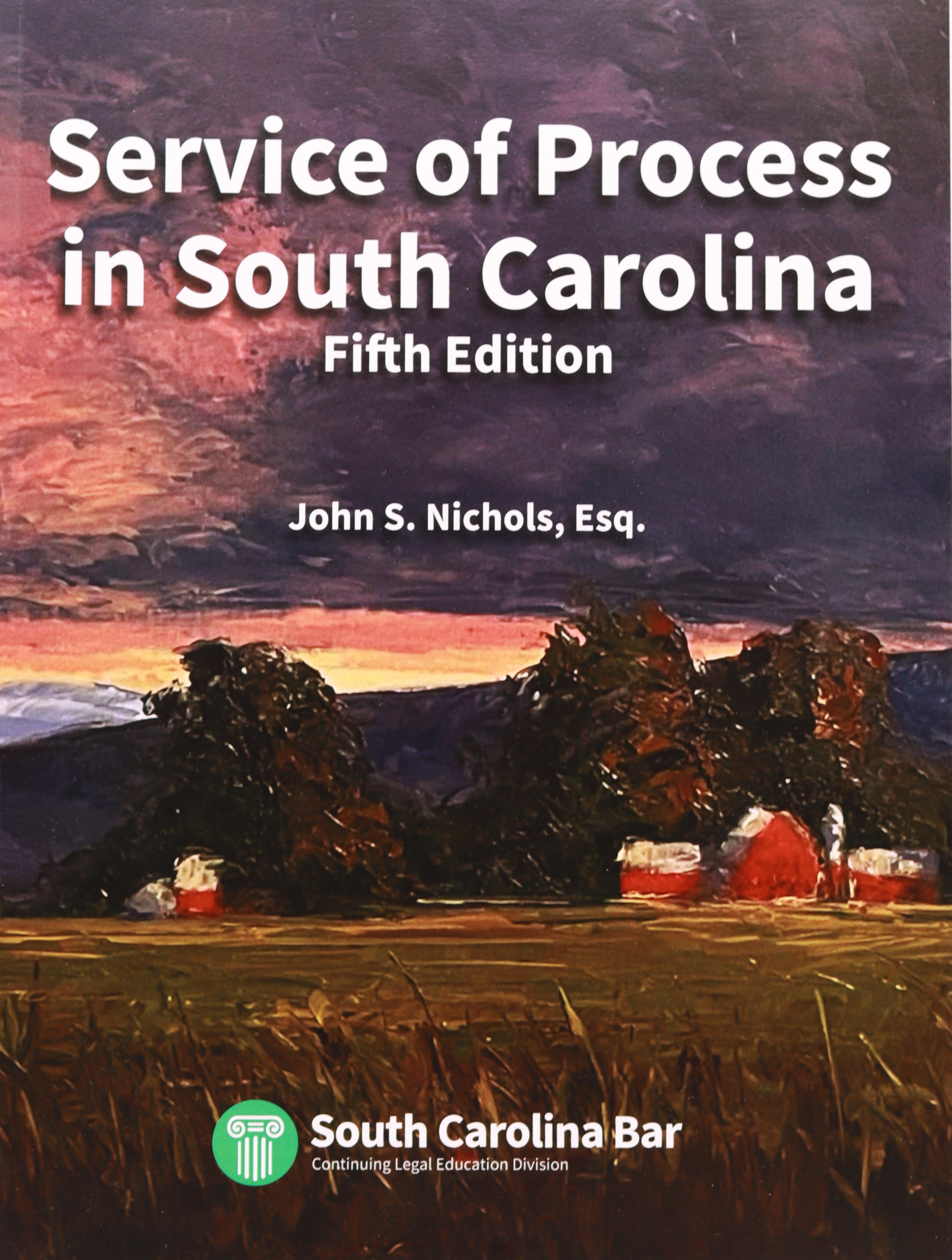 Book
| | |
| --- | --- |
| Ratings | |
| Standard Price | $45.00 |
| Member Price | $38.00 |
| Size | |
| Color | |
| Qty | |
Product Details
John S. Nichols, Esquire

One of the fundamental prerequisites to maintaining an action in South Carolina is proper service of process. If service is defective, then the validity of any judgment may well be challenged and the judgment overturned. This handy resource is an attempt to compile Rules, statutes, and pertinent case law into one source to serve as a quick reference to answer most of the questions regarding proper service of process. The primary focus of the book is on State practice, although Federal practice is similar to South Carolina state procedure. The Federal Rule is provided where the differences are noteworthy.
This Fifth Edition fully updates the Fourth Edition released in 2014. It specifically updates the cites and provisions to reflect the 2015 Congressional amendments to the Servicemembers Civil Relief Act.
As an added bonus, sample forms are included as examples of ways to perfect service. All of the forms found in the book, as well as the book text, will be available for download with your purchase. Some of the sample forms include: a summons, an affidavit of service, a petition for Order of Publication, a sample motion for commission to domesticate a subpoena, a form for use for service in a foreign country, a waiver of service, and many more!
The South Carolina Supreme Court issued this May 6 order to provide a uniform rule for service by e-mail in the various trial courts of this state.

It also released this amended order May 6 outlining methods of electronic filing and service under Rule 262 of the South Carolina Appellate Court Rules.
With these Amended Orders it is crucial that SC Bar members keep their information updated in the AIS system.
Summary of Contents
• General Rules
Commencement of the Action
Miscellaneous Rules
What Must be Served
Who May Serve Process
Voluntary Appearance
Service of a Rule to Show Cause
• Methods of Service
Summons and Complaint: General Rules
Service of a Subpoena
Territorial and Other Limits of Effective Service
Proof of Service and Return
Filing of Documents and Things
• Statutes Affecting Service
Nonresident Motorist and Motor Carriers Generally
Service Upon the Unknown John Doe Motorists
Domestic Businesses or Nonprofit Corporations
Unincorporated Associations
Foreign Corporations
Aircraft; Nonresident Operator
Railroads
Traveling Shows
Vessels; Nonresident Operators
Insurance Companies
Joint-Stock Companies
Trustees of Inter Vivos Trusts
Individual Fiduciaries
Nurserymen
Criminal Process Upon Domestic or Foreign Corporations
• Specific Rules Affecting Service in Magistrate's Court
The Summons in Magistrate's Court
Service of Documents: Who May Serve
Service of Documents: Who to be Served
Other Methods of Service
Territorial Limits of Effective Service
Proof of Service
Acceptance of Service
Dismissal
Service on Sundays
• Service in Other Countries: The Hague Service Convention
General Overview
Purpose of the Service Convention
Applicability of the Service Convention
Channels of Transmission under the Service Convention
What Must be Served?
How Service is Accomplished and Resulting Certificate of Service
Objections to Service
Default
Costs of Service under the Service Convention
Miscellaneous Provisions
• The Servicemembers Civil Relief Act
Servicemembers Civil Relief Act, Generally
Protection of Servicemember from Default
• Sample Forms
Sample Forms from the SC Judicial Department's Website
Sample Motion for Commission to Domesticate Subpoena
Form for Request for Service Abroad of Judicial or Extrajudicial Documents
Sample Richland County Sheriff's Department Affidavit of Service
Sample Petition for Order of Publication
Sample Order of Service by Publication
Sample Affidavit of Publication
Sample Acknowledgment of Service
Sample Waiver of Service
• Tables of Cases and Authorities
Service of Process
Tags Estate Planning/Administration; Insurance; Litigation/Trial Practice; International; Military/Veteran's; Probate; Featured
Additional Product Photos