South Carolina Construction Law Desk Book, Second Edition
Out of Stock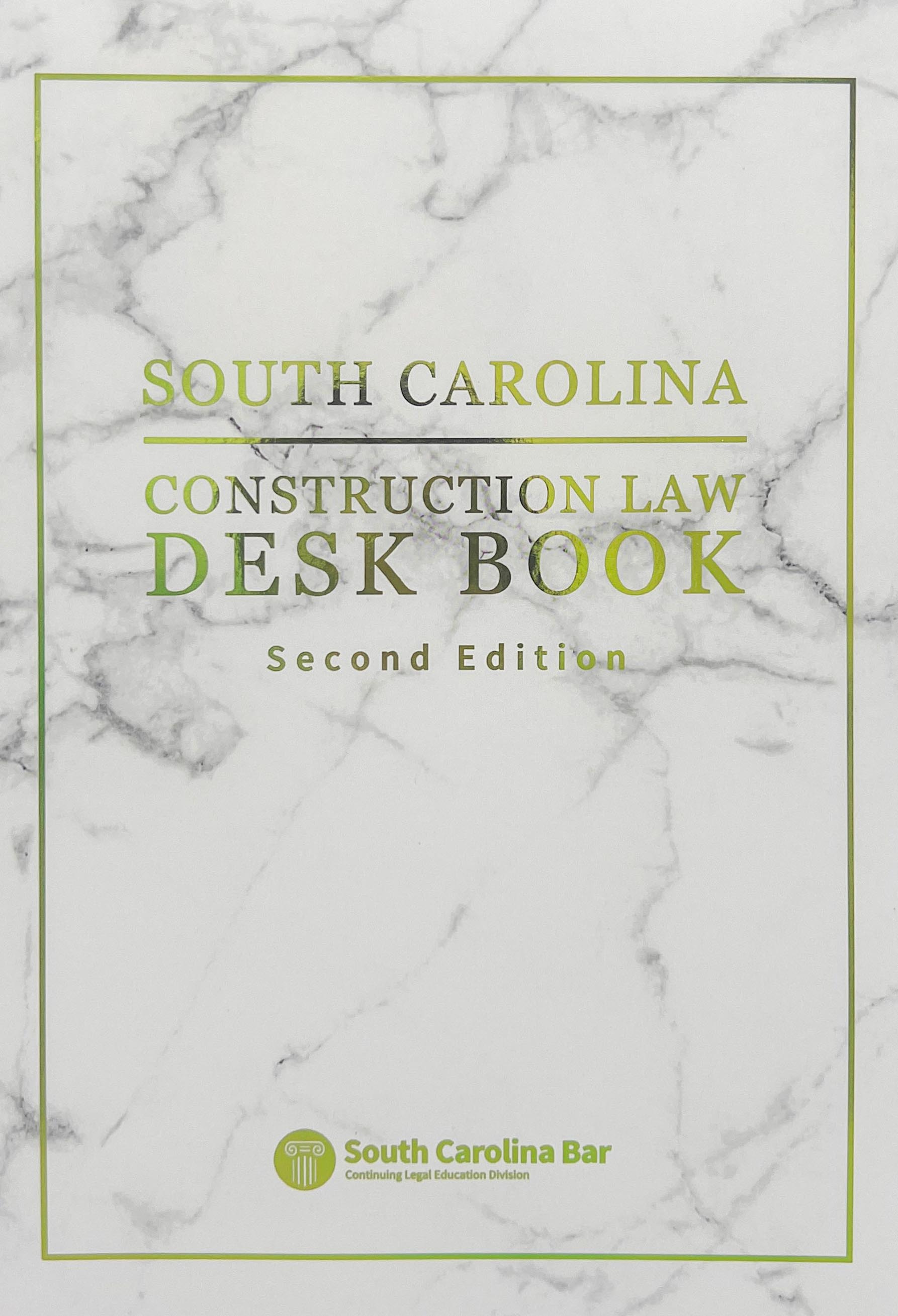 Book
| | |
| --- | --- |
| Ratings | |
| Standard Price | $125.00 |
| Member Price | $125.00 |
| Size | |
| Color | |
| Qty | |
Product Details
Contributing Authors:
K. Michael Barfield
Alexandra B. Breazeale
Stephanie G. Brown
Matthew E. Cox
W. Kyle Dillard
John J. Dodds IV
Adam J. Floyd Mason
A. (Andy) Goldsmith, Jr.
Neil S. Haldrup
M. Stokely Holder
Tracy T. James
Bryan P. Kelley
Wesley (Wes) B. Lambert
W. Greyson Land
Bonnie A. Lynch
Carmela E. Mastrianni
J.W. (Jay) Matthews III
Keith C. McCook
John T. Merrell
David A. Nasrollahi
Tara E. Nauful
Boyd B. (Nick) Nicholson, Jr.
Paige C. Ornduff
F. Lee Prickett III
Joshua D. Shaw
Franklin J. Smith, Jr.
R. Patrick Smith
Joshua D. Spencer
Taylor H. Stair
Ford H. Thrift
William R. Warnock, Jr.
© 2022
With 12 chapters and more than 550 pages, this book is the only SC Bar - CLE
publication that addresses construction law in South Carolina. Written by 31
contributing authors it covers all realms of construction law, from licensing
requirements, bidding public projects, drafting, and negotiating construction and
design contracts, procuring the appropriate surety products, and best practices for
securing payment for materials or services, to the resolution of construction and
design disputes based in contract or tort.
Whether your practice revolves around construction law and its various nuances, or
you have a client with the occasional need for construction-related services, every
South Carolina lawyer that is confronted with a construction-related issue should
have the South Carolina Construction Law Desk Book, Second Edition.
Each purchase comes with a downloadable version of the book.
SUMMARY OF CONTENTS:
• Licensure of Construction Professions and Occupations
• Public Construction Projects - State and Local
• Contract Clauses
• Claims Arising Out of Contract or Quasi Contract
• Construction Defect Claims and Damages
• Design Professional Liability
• Payments
• Mechanics' Liens
• Bonds and Suretyship
• Alternative Dispute Resolution
• A Survey of Labor & Employment and Workplace Safety and Health Law for Construction Lawyers
• The Basics of Bankruptcy Law for Construction Lawyers
Tags Alternative Dispute Resolution; Construction; Employment/Labor; Insurance; Tort; Administrative/Regulatory; Litigation/Trial Practice; Bankruptcy; Government; Featured
Additional Product Photos