The SC Litigation Handbook Second Edition
Out of Stock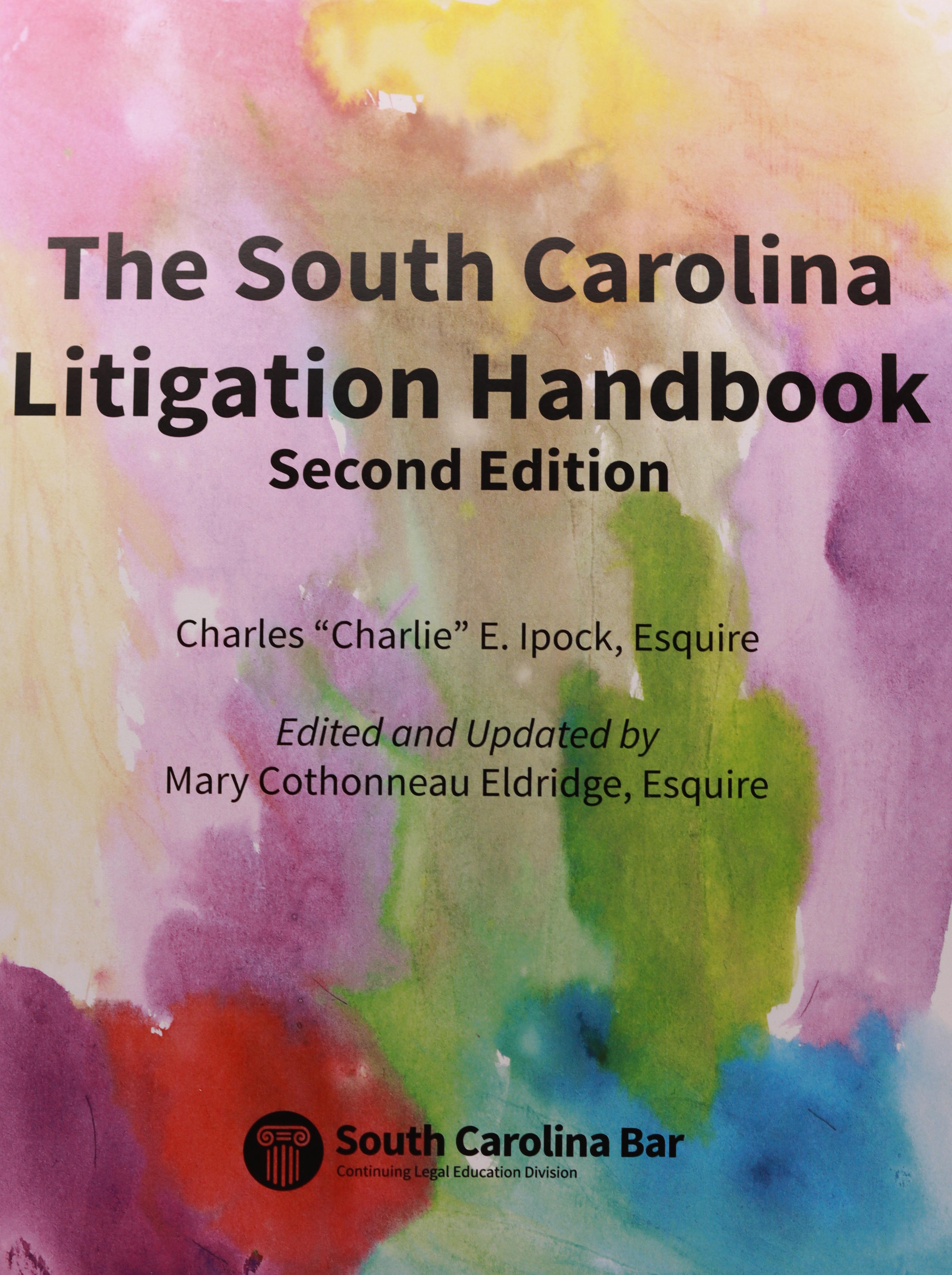 Book
| | |
| --- | --- |
| Ratings | |
| Standard Price | $50.00 |
| Member Price | $50.00 |
| Size | |
| Color | |
| Qty | |
Product Details
The South Carolina Litigation Handbook, Second Edition
Charles "Charlie" E. Ipock, Esquire
Edited and Updated by Mary Cothonneau Eldridge, Esquire
Table of Contents

Copyright 2021

The South Carolina Litigation Handbook, Second Edition has been designed for the busy civil practitioner who needs to quickly reference:
1. More than 45 civil causes of action and their available remedies;
2. Types of damages and how they are recoverable;
3. More than 20 types of defenses;
4. Allotment of available time under the SC Rules of Civil Procedure;
5. Appropriate and substantive discovery objections;
6. Trial objections with the ground and basis, and,
7.Parties against whom counterclaims, crossclaims and third-party claims may be brought.
Don't get lost in online research and resources simply trying to find the available remedies for the causes of action you are pleading, appropriate objection language to those overbroad discovery requests, or the amount of time you have to file that notice of appeal. The South Carolina Litigation Handbook, Second Edition is a one-stop shop with all of this information presented in an intuitive, easy-to-use format.

For this new Second Edition, the authors updated the client-intake forms to help you ascertain electronic data more readily from your clients, added more federal causes of action (like RICO), and more copyright/trademark causes of action, reorganized the filing deadlines materials into trial phases: pleadings time provisions, pre-trial time provision, trial time provisions, summary judgment time provisions, and appeal time provisions, and added two new chapters along with a South Carolina venue map. Chapter Seven breaks down trial objections in a simple way with citations to the rules, gets into the nitty gritty on hearsay and impeaching witnesses, and really can be your "go-to" trial book for objections and trial prep. If you are involved in a case with multiple parties, claims, crossclaims, counterclaims, and third-party claims, Chapter Eight will be a must read for you! It outlines the applicable SCRCP provision, the type of claim, and the party against whom the claim can be brought, along with a proper description.

As civil litigators, time is precious. Make the most of your time by keeping this book at your desk, in your trial materials, and in client meetings to easily reference the essential litigation subjects quickly and accurately all with citation to the appropriate authority. Included at the end of every chapter is an updated list of related SC Bar CLE resources if more in-depth research is needed.


Summary of Contents:
Chapter 1: You've Got A New Client, Not What?
Chapter 2: Causes of Actions and Remedies
Chapter 3: Damages, Fees, Costs, and Interest
Chapter 4: Defenses
Chapter 5: Filing Deadlines
Chapter 6: Discovery Objections
Chapter 7: Evidentiary Cheat Sheet
Chapter 8: Litigating Counterclaims, Crossclaims, and Third-Party Claims

Tags Animal; Consumer; Business/Corporate; Equity; Estate Planning/Administration; Insurance; Residential Real Estate; Tort; Appellate Practice; Litigation/Trial Practice; Probate; Featured
Additional Product Photos