Family Law Essentials: A Primer for Private Practice Before the Family Court in South Carolina
Out of Stock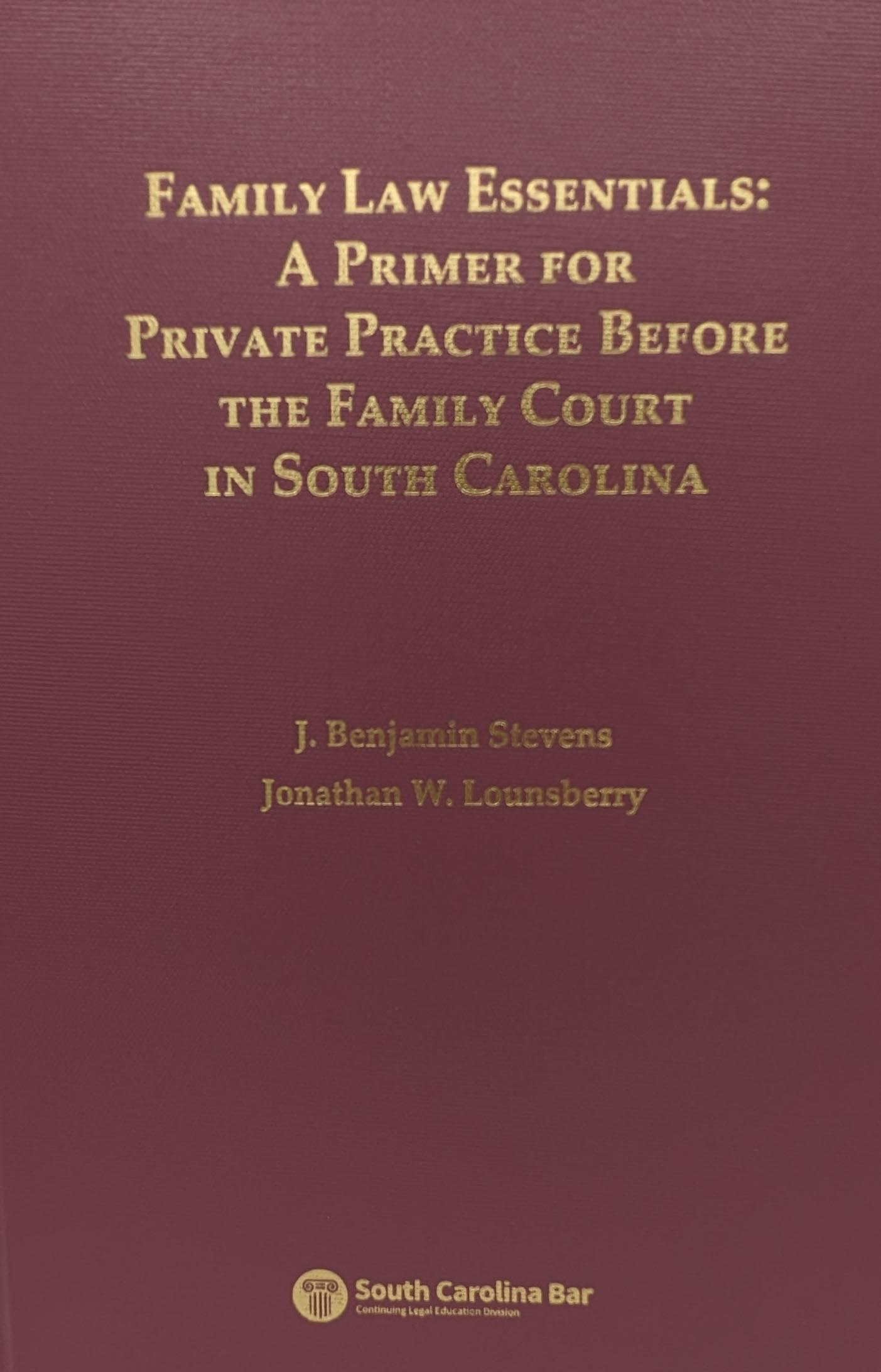 Book
| | |
| --- | --- |
| Ratings | |
| Standard Price | $150.00 |
| Member Price | $150.00 |
| Size | |
| Color | |
| Qty | |
Product Details
J .Benjamin Stevens
Jonathan W. Lounsberry
Copyright 2018
Whether you are an attorney who may be just opening a family law practice or an attorney who handles the occasional Family Court matter, Family Law Essentials: A Primer for Private Practice Before the Family Court in South Carolina is designed to be a practical, easy-to-use reference for all attorneys who practice in the Family Court. Family Law Essentials draws upon decades of practical experience, combined with advice contained in the annals of the South Carolina Bar's CLE Division. Divided into three Sections, this valuable resource provides practitioners with tips and pointers for a more efficient and effective family law practice, along with quick explanations of the law and procedure in Family Court:

- Section 1 gives an overview on ways to set up and manage a Family Court practice, from client intake to technology to marketing.
- Section 2 provides a brief explanation of the substantive law used in private Family Court actions.
- Section 3 is a practical road map of trying a Family Court case, from filing the Summons and Complaint to drafting the Final Order.

In addition to the substantive information, each Section includes an in-depth set of resources and forms, which include sample client intake sheets, letters, pleadings, discovery, motions, and orders. All forms referenced in the book are included in Word or PDF on the accompanying CD.
Table of Contents



Summary of Contents
Section 1: Opening a Family Law Practice Chapter
Chapter 1: Client Intake Chapter
Chapter 2: Technology Chapter
Chapter 3: Marketing Chapter
Chapter 4: Helpful Resources Three Sample Forms
Section 2: Basic Substantive Law Introduction: What is Private Practice Before the Family Court?
Chapter 5: Marriage, Divorce, Separate Support & Maintenance, and Annulment
Chapter 6: Child Custody and Visitation
Chapter 7: Child Support
Chapter 8: The Guardian ad Litem
Chapter 9: Division of Assets and Debts
Chapter 10: Alimony Thirteen Sample Forms
Section 3: Handling a Private Domestic Relations Matter from Summons & Complaint to Final Order
Chapter 11: Getting Things Started: Initial Pleadings
Chapter 12: The Temporary Hearing
Chapter 13: Trying the Case in Family Court
Chapter 14: Drafting Orders
Chapter 15: Contempt Actions Seventy-Six Sample Forms Twelve Appendices Index
Additional Product Photos