Pocket Prelims
Out of Stock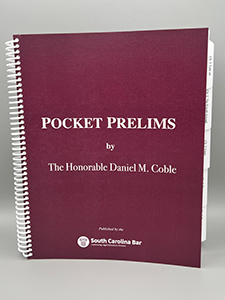 Book
| | |
| --- | --- |
| Ratings | |
| Standard Price | $65.00 |
| Member Price | $65.00 |
| Size | |
| Color | |
| Qty | |
Product Details
Whether you are a seasoned public defender or a new prosecutor, Pocket Prelims is an essential guidebook for your next preliminary hearing. Based on years of first-hand experience, this book provides readers with practical advice and information on a wide range of legal issues that can arise in a preliminary hearing. It is a quick reference guide for all of those issues you know you know but can't remember at the moment. Each chapter contains either statutes, case law, definitions, or a combination of all three, for the criminal law area being addressed. In many chapters of the book, Daniel Coble included Factors to Consider when dealing with a particular case.
Preliminary hearings move quickly and can cover nearly all crimes. Because of the fast-paced nature of preliminary hearings, this book was designed to be as user-friendly as possible. The book is spiral-bound, allowing it to lay flat, and has been tabbed at each chapter. This will allow the reader to quickly find the legal issue and present a coherent argument to the court.
Be prepared and confident at your next preliminary hearing with Pocket Prelims.
Pocket Prelims - Short from South Carolina Bar on Vimeo.
Summary of Contents:
Chapter 1: The Law on Preliminary Hearing
Chapter 2: The Fourth Amendment
Chapter 3: Guns
Chapter 4: Drugs
Chapter 5: Property Crimes
Chapter 6: Assault
Chapter 7: Domestic Violence
Chapter 8: Robbery
Chapter 9: Murder/Manslaughter
Chapter 10: Miscellaneous Issues
Chapter 11: Practice Tips
Chapter 12: SC Magistrate Courts Contact Information
Chapter 13: SC Criminal Rules of Procedure
Chapter 14: SC Rules of Evidence
Pocket Prelims - Table of Contents
Additional Product Photos