Effective Courtroom Advocacy
Out of Stock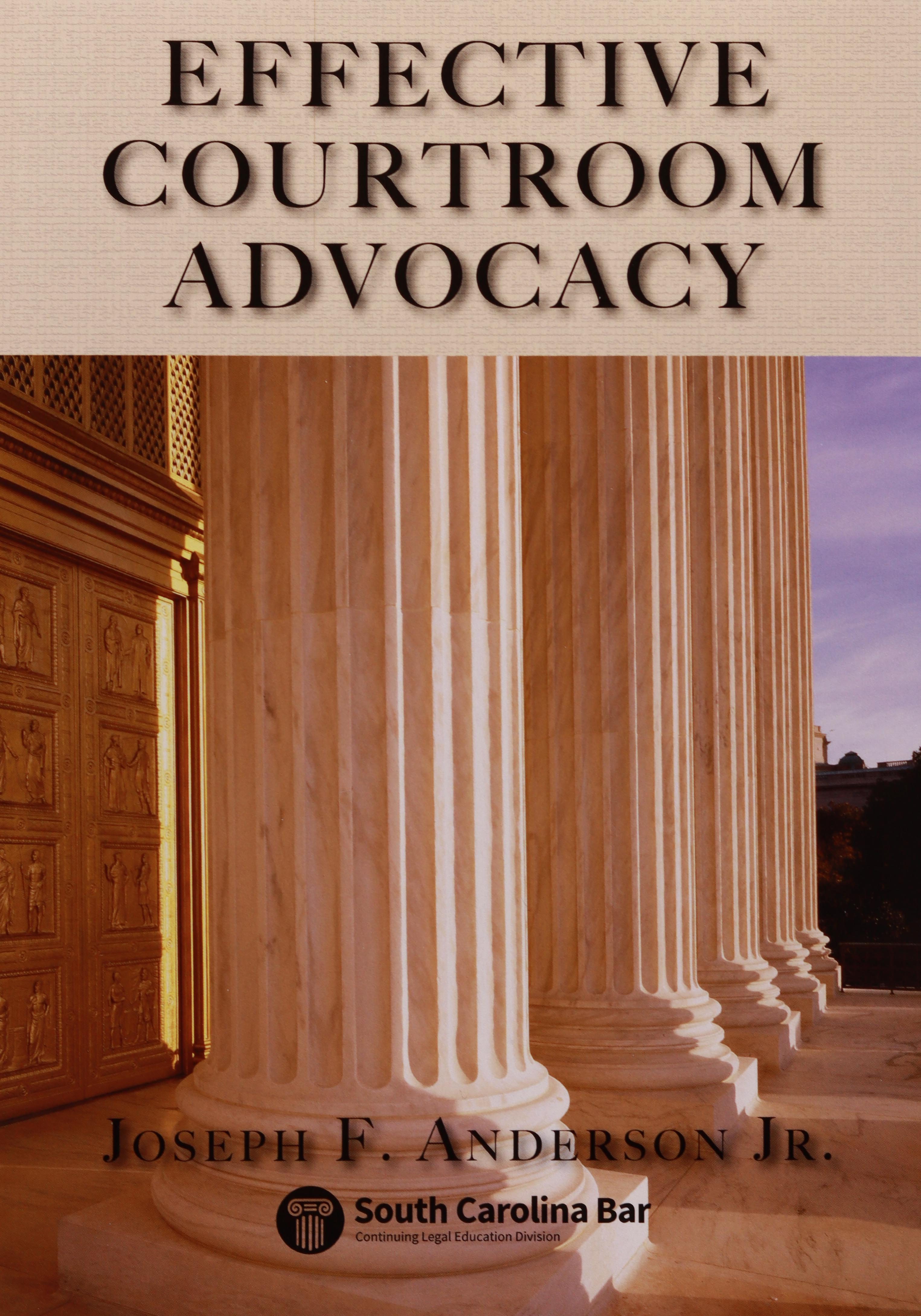 Book
| | |
| --- | --- |
| Ratings | |
| Standard Price | $65.00 |
| Member Price | $65.00 |
| Size | |
| Color | |
| Qty | |
Product Details
Effective Courtroom Advocacy
The Honorable Joseph F. Anderson Jr.
Original copyright by NITA 2010
Copyright by SC Bar - CLE Division 2020
What makes this book different from many other trial advocacy books is that the author is not boasting about the great trial successes he has achieved. Rather, a judge with 33 years on the bench writes about what he sees as he observes trials in action. This book is a gift to trial lawyers and would-be trial lawyers.
…
…There are no wasted words. It is lean and to the point, just like a good argument made at trial. It is also a good read, which is rare among trial advocacy books.
- Professor Stephen Saltzburg
George Washington University School of Law
As Judge Anderson asks in the book's Preface, "Why another book on trial advocacy? What is left to say on the subject…?" Judge Anderson's answer is threefold. First, many of the books on trial advocacy have been written by successful lawyers, but very little has been written by the other familiar presence in the courtroom- the judge. Judge Anderson's years on the bench have given him an opportunity rarely afforded to practicing attorneys - extensive observation of courtroom behavior both in trials and at oral arguments in motions hearings. Judge Anderson's perspective from the bench has afforded him ample opportunity for extensive, and generally objective, observation of the battle below. Judge Anderson has also been able to collect feedback from jurors in cases he's tried and in this book he shares his research involving jurors who reached verdicts in
actual
cases. He also shares the results of surveys that he has conducted with fellow judges on good and bad lawyering seen in their courtrooms.
Second, advocacy is changing. The time-honored art of storytelling has given way to more modern forms of persuasion. Today's advocate must contend with electronically stored information, PowerPoint presentations, satellite testimony, the ability to obtain information midtrial through the Internet, and above all, jurors with short attention spans who are accustomed to having information presented in visually appealing ways. Combined, these new demands require new skills on the part of the trial lawyer.
The final reason Judge Anderson wrote this book is because with all the demands in modern-day legal practice there is little time and opportunity for the average practitioner, much less the young associate, to observe other lawyers in the courtroom. Observations of lawyers in a courtroom arguing actual cases was once viewed as an indispensable component of legal education. Now, with all the modern demands, the craft of advocacy suffers. In this book, Judge Anderson has included trial excerpts and tales from SC practitioners, like Gedney Howe III, Kendall Few, Warren Moise, Judge Gary Hill, John Cuttino, Joel Collins, Eric Ruschky, Deborah Barbier, Judge Kay West, Dick Harpootlian, Fayrell Furr, Ken Suggs, Tim Bouch, Judge Cameron Currie, Judge Robert Hemphill, Judge Thomas Kemmerlinn, and other national notable greats to allow attorneys to "observe" actual trials vicariously.
As the title suggests, this book focuses on methods proven to be effective in the courtroom. The emphasis is on the practical rather than the theoretical. Judge Anderson includes "SIDEBARS" throughout the book that bring to life suggestions found in the text. These "SIDEBARS" are useful examples that are both funny and effective.
This book is for attorneys who want to forge the skills necessary for meaningful participation in the public administration of justice in the United States.
Summary of Contents:
Chapter 1: Trial Techniques
Chapter 2: What Today's Jurors
Really
Think
Chapter 3: How to Handle Judges
Chapter 4: Common Mistakes to Avoid
Chapter 5: A Survey of the Most Misunderstood and Misapplied Evidence Rules
Chapter 6: A Tangled Web: A Mock Trial Script and Case Study on the Federal Rules of Evidence
Chapter 7: Examples of Good Advocacy
Additional Product Photos