Insurance Bad Faith: A Primer on the Law in South Carolina
Out of Stock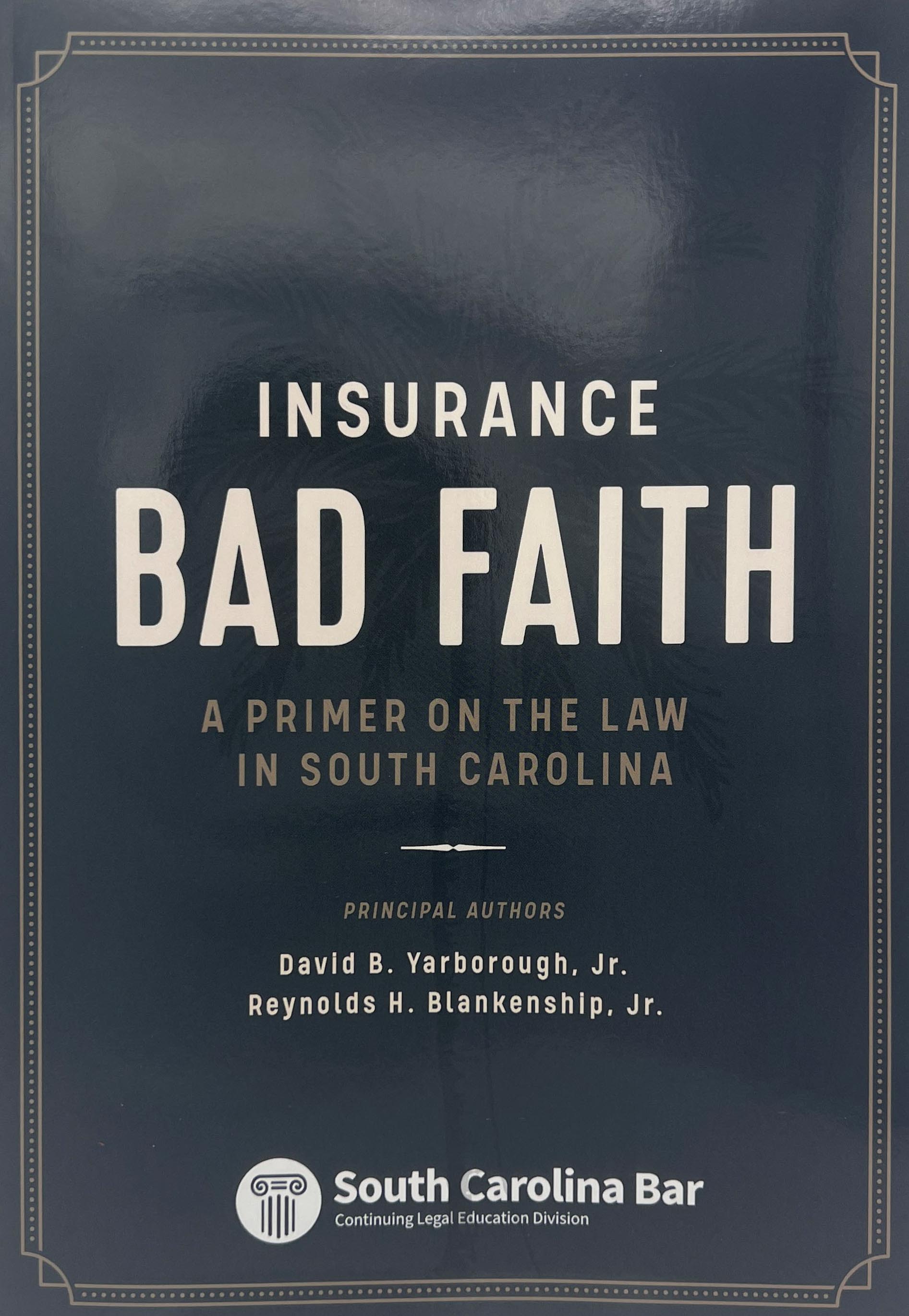 Book
| | |
| --- | --- |
| Ratings | |
| Standard Price | $55.00 |
| Member Price | $55.00 |
| Size | |
| Color | |
| Qty | |
Product Details
Principal Authors: David B. Yarborough, Jr. and Reynolds H. Blankenship, Jr.
Contributing Authors: Molly H. Craig, James B. Hood, and Virginia R. Floyd
© 2022
Insurance Bad Faith: A Primer on the Law in South Carolina is part history, part primer, and part practice guide. Starting with the seminal case of Tyger River Pine Company v. Maryland Casualty Company, the book goes through the evolution of third-party claims of bad faith, the eventual recognition of first-party claims in Nichols v. State Farm, and everything since. The first 12 chapters of this 17-chapter book address the intricacies and idiosyncrasies of this nuanced field of law, including fundamental concepts such as standing and the causes of action available against an insurance carrier, as well as the analyses that the courts employ in evaluating bad-faith claims in various scenarios. The final 5 chapters provide more practical guidance on developing and litigating the claim, including an excellent chapter from the contributing authors on the role and ethics of insurance-defense counsel when the insurer and insured are in conflict.
Each purchase comes with a downloadable version of the book.
Summary of Contents:
• Third-Party Claims: The Tyger River Doctrine
• First-Party Claims: Nichols v. State Farm
• Bad-Faith Processing of Insurance Claim
• Wrongful Refusal to Defend or Indemnify
• An Insurer's Incorrect Valuation of a Claim
• Standing to Bring Claim Against Insurer
• Assignment of Third-Party Claims
• No Cause of Action for Statutory Bad Faith
• No Separate Cause of Action for Negligence (Probably)
• No Bad-Faith Claim Against Workers' Compensation Carrier
• UM and UIM Claims
• Damages
• Developing the Claim of Third-Party Insurance Bad Faith
• The Insurance Defense Client: Navigating Ethics Throughout the Representation
• Commencing the Action for Insurance Bad Faith
• Discovery Issues
• Use of Expert Witnesses
Tags Featured
Additional Product Photos