Book of Estate Planning Questions & Answers, 3rd Edition
Out of Stock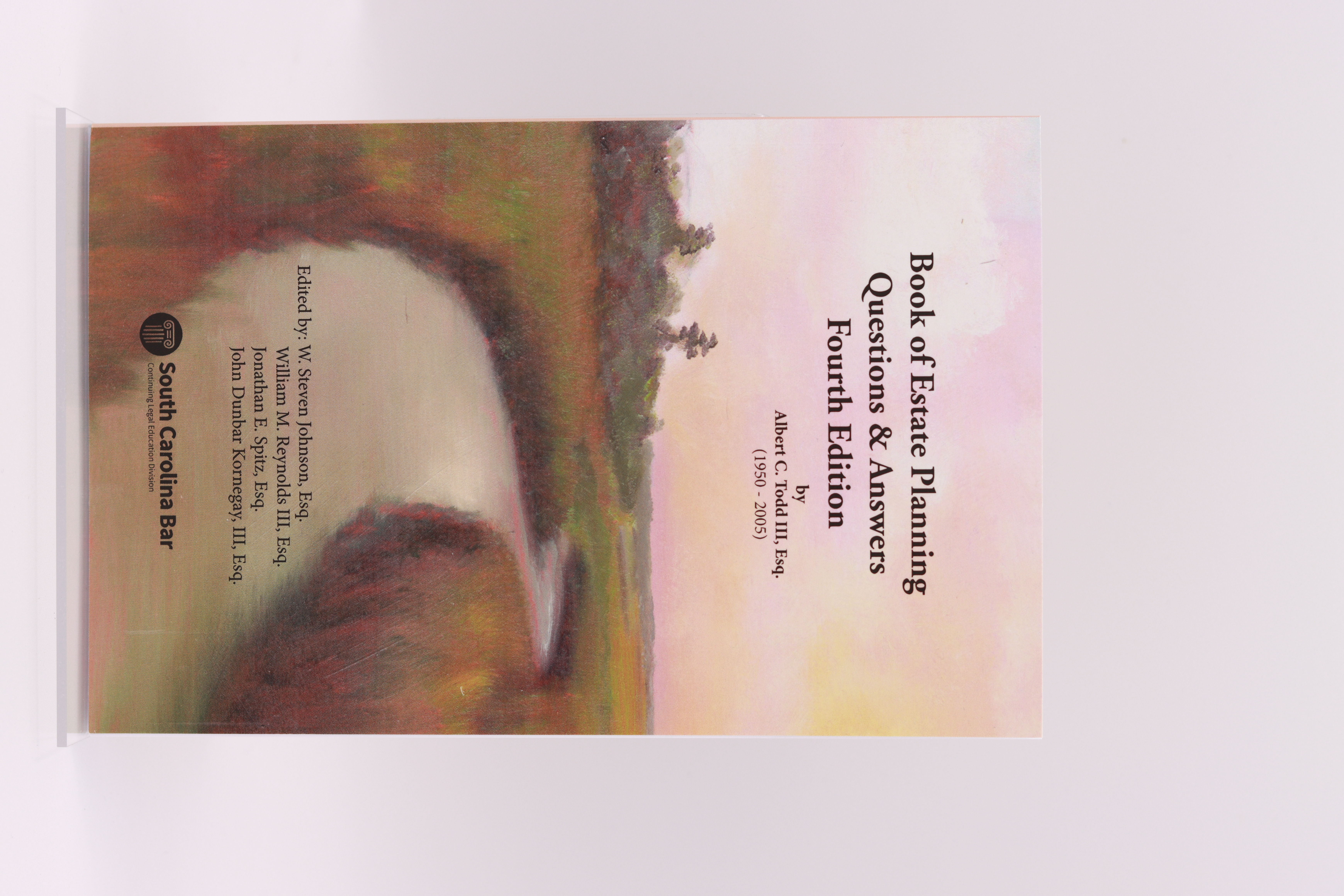 Albert C. Todd, III Esq
| | |
| --- | --- |
| Ratings | |
| Standard Price | $25.00 |
| Member Price | $25.00 |
| Size | |
| Color | |
| Qty | |
Product Details
©2016
Albert C. Todd III (1950-2005)
Edited by: W. Steven Johnson, William M. Reynolds III and Arthur E. White III
This guide is not a textbook on estate planning for practitioners, but is rather a conversational guide for the estate planning client or layperson. It is, in written form, the questions with answers that Al Todd most frequently received from his clients in the course of his more than 27 years of estate planning practice. It provides a practical, down-to-earth overview of complex questions, but should not be used as a substitute for qualified legal advice. Instead, the attorney should use the book as a reference for his or her clients and the layperson should use the book as a guide to be better prepared when seeking help from his or her estate planning lawyer.
Simply put, this book contains the answers to the questions that most people are asking - thus the answers are phrased in terms of "WDRPD - What Do Real People Do." The questions and answers are written conversationally and simply. The book is not packed with a lot of legalese, and includes concrete examples and diagrams where they are helpful. It is not written to be read like a novel or a textbook. It is written with the premise that most people will look up specific topics or specific questions.
The Book of Estate Planning Questions & Answers, Third Edition
is just what its name implies - a straightforward, conversational resource for the most common estate planning questions that virtually everyone asks. It is unintimidating yet insightful. But most of all it is practical, and it is the perfect starting point for planning one's estate, whether large or small.
$2022; Your Estate
$2022; Documents You May Need
$2022; Trusts
$2022; Wills
$2022; Powers of Attorney
$2022; Health Care Power of Attorney and Living Will
$2022; How Property Passes at Death
$2022; Probate of Estates
$2022; Avoiding Probate
$2022; Second (And More) Marriages
$2022; The Personal Representative
$2022; Life Insurance and the Estate Plan
$2022; Estate Planning and the IRA
$2022; Making Gifts to Reduce the Value of Your Estate
$2022; Taxes - Estate, Gift, Income
$2022; Tax Charts
Estate Planning Q&A, 2nd Ed.
Tags Elder Law; Estate and Probate Law; Family and Children's Law
Additional Product Photos